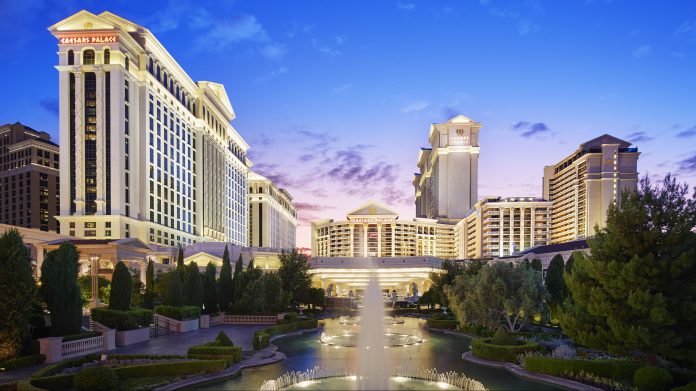 Caesars Entertainment is eyeing a further US sports wagering uptick by the end of the year and into 2022, as the US casino and entertainment operator posts a $233m (2020: $926m) net loss through the year's third quarter.
The company aligns the performance, in part, on natural disasters such as the devastation caused by Hurricane Ida, which became one of the most powerful storms to hit the US earlier this year, as well as a fire in Tahoe.
However, on an earnings call to examine the group's performance for three months to September 30, 2021, Caesars disclosed that a sale of a casino property on the Las Vegas strip in the early stages of next year forms part of a larger strategy to reduce the company's debt load.
Upon being quizzed on the potential sale of a second Vegas-based facility, Tom Reeg, chief executive officer of Caesars, stated: "We have never said that we plan to sell a second property, nor do we expect to at this point. 
"We would expect to sell a single property and be done, but we will assess where we are in the market [and] what our balance sheet looks like afterwards, and how we feel about our future prospects, but I think it will be limited to one asset."
Q3 also saw Caesars, which has announced the appointment of Sandra Douglass Morgan to its board of directors effective November 7, 2021, record net revenue of £2.7bn, contrasted to $1.4bn during the past year.
This saw Las Vegas properties' revenue close at $1bn, with its regional performance and Caesars Digital increasing to $1.54bn (2020: 1.05bn) and $96m (2020: $39m), respectively. 
Adjusted EBITDA through the third quarter came in at $882m versus $433m during 2020, however, excluding the group's Caesars Digital segment this closed at $1bn (2020: $420m). 
Caesars says that without the impact of the aforementioned Hurricane Ida and Northern California fire, EBITDA would've closed the quarter at £1.1bn.
Reeg, who anticipates sports betting reaching profitability for the group by the commencement of the 2023 NFL season, added: "Our third quarter operating results reflect an all-time quarterly EBITDA record in our Las Vegas segment and a new third quarter EBITDA record for our regional segment. 
"We are encouraged by the early results from our rebranded Caesars Sportsbook launch and we are looking forward to launching additional states by year end and into 2022."
For the first nine months of the year revenue is up over 250 per cent year-on-year to $7.21bn (2020: $2.04bn), with Las Vegas and regional venues reaching $2.36bn (2020: $304m) and $4.29bn (2020: $1.63bn), respectively. Digital closed at $356m (2020: $58m).