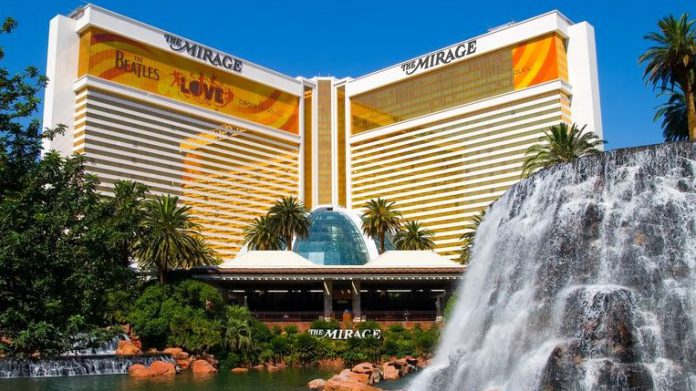 MGM Resorts is to divest Las Vegas' The Mirage Hotel and Casino, as the group stands poised to add the operations of the Cosmopolitan next year after entering into a £1.65bn deal, alongside Blackstone, in September.
The comments came in an earnings call regarding the group's third quarter performance, during which Bill Hornbuckle, MGM CEO and president, also detailed ongoing growth efforts in the US, concerning New York in particular, as well as Japan.  
"As such, we're currently in the early stages of a process to sell the operations of the Mirage," he explained. "Doing so will allow us to maintain our existing Las Vegas exposure while focusing on the complementary diverse nature of our offerings in our hometown. I spent the early part of my career at Mirage, I have been part of that team's opening at the property in 1989."
In addition to detailing an intention to offload "a historic property with great brand recognition and a strong customer and loyal following," the company also remains "keen on diversifying our business and further expanding our operations globally".
Following a "milestone" agreement that saw the group selected by the Orix consortium as a partner to build and operate an integrated resort in Osaka, MGM is working to submit an area development plan to the central government in the coming months and is "hopeful and confident" of being awarded a license next year.
"Outside of Japan, we will continue to study key US regional markets of significance," he adds. "This includes the commercial gaming license in New York, for which we believe MGM is well-positioned given our existing operations at Empire City.
"Moving onto BetMGM. Our sports betting and igaming venture continues to build on its success every quarter. In the third quarter, BetMGM launched in 3 new states, Arizona, South Dakota, and Wyoming."
The third quarter of the year saw MGM secure a 140 per cent revenue increase to $2.7bn (2020: $1.12bn), benefiting from the removal of mandated operational and capacity restrictions as well as an increase in travel, with the prior year negatively affected by temporary closures at certain properties and operational restrictions due to the COVID-19 pandemic.
Consolidate net income reached $1.9bn from a loss of $495m on the earlier, with consolidated adjusted EBITDA closing out the quarter $765m.
Revenue of $1.38bn at the firm's Las Vegas strip resorts demonstrates an increase of 187 per cent from 2020's $481.4m due to the aforementioned circumstances, with adjusted property EBITDAR closing the period at $535m, up from 2020's $15m and increase of 15 per cent from two years earlier.
The group's regional facilities saw revenue surge 66 per cent to $925.1m (2020: $481.4m), adjusted EBITDAR closed at $348m, increases of 139 per cent and 29 per cent from 2020 and 2019, respectively.
MGM China saw revenue reach $289m, up 517 per cent from 2020's $46.8m but down 61 per cent from 2019, with the prior year significantly impacted by travel and entry restrictions in Macau as well as other operational restrictions related to the pandemic. Adjusted EBITDA closed at $7m, an increase from 2020's $96m loss but down 96 per cent from two years earlier.
"We delivered another strong quarter led by our domestic operations resulting in new historical adjusted property EBITDAR records for our Las Vegas strip and US regional segments," added Hornbuckle. 
"These results demonstrate the continued robust demand for our gaming entertainment offerings across the US and the effectiveness of our operating model. The completion of our asset light strategy will allow us to simplify our corporate structure and bolster our liquidity.
"I am also excited about our long-term growth prospects, including: BetMGM, which continues to establish itself as a clear leader in US sports betting and igaming; our selection as Osaka's partner to build and operate a large-scale integrated resort in Japan; and the announcement of our agreement to acquire the operations of The Cosmopolitan of Las Vegas. 
"The company remains focused on achieving our vision to be the world's premier gaming entertainment company."