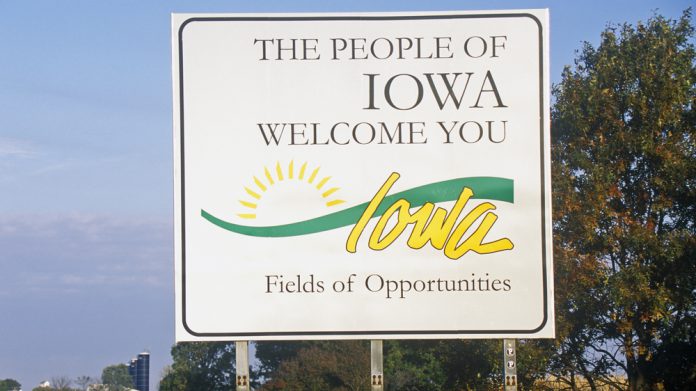 Iowa saw its wagers and revenue decrease in December as the state's sportsbooks ended 2021 generating nearly $270m in bets.
According to PlayIA, a source for news and analysis of the Iowa gaming market, December's wagers fell short of the record $287.2m wagered one month earlier, as the volume of betting slipped to $8.6m per day over the 31 days of December from $9.6m per day in November. 
Moreover, revenue was also down last month, dropping 32.3 per cent to $13.4m from the record $19.7m in November. Despite the decline, December's revenue was reported to be the second-highest in state history, and up 77.4 per cent over the $7.5m produced in the same period last year.
"Bettors have more time and more opportunity to place a bet in December than most any other month," said Eric Ramsey, an analyst for the PlayUSA, which includes PlayIA.
"Football and basketball seasons overlap, and Iowa and Iowa state have played well in both sports, which creates enthusiasm. Plus, sports fans take time off around the holidays, and college bowl games are played every day of the week."
Alongside the above mentioned figures, Iowa sportsbooks generated more than £13m in revenue on nearly $270m in bets in last month.
PlayIA stated that the near-record action capped a year in which the growth at the region's sportsbooks exploded with the dismissal of in-person online registration rules, resulting in $2bn in wagers in 2021.
In December, bettors poured $266.5m in wagers in Iowa's online and retail sportsbooks, up 154.3 per cent from $104.8m in December 2020, according to the official data. 
December closed the book on a  year which started with the end of in-person registration requirements at online sportsbooks. This resulted in $2.04bn in online and retail wagers, up 255 per cent from $575.2m in 2020 with PlayIA placing Iowa tenth among legal sports betting jurisdictions in the US. 
Moreover, $1.8bn was wagered online alone, up 343.7 per cent from $405.2m from the previous year and £11.5m in net receipts, up 175.2 per cent over $41.6m in 2020.
"Significant growth would have come regardless of the registration rules, but the rollback of in-person requirements ultimately was rocket fuel for Iowa's sportsbooks," stated Russ Mitchell, lead analyst for PlayIA. 
"Iowa's market hasn't reached maturity either. Sportsbooks continue to expand their reach to new customers as potential bettors become more comfortable with the idea of legal sports betting. And as Iowa bettors become more familiar with diverse forms of betting such as in-game wagering, the market should continue to grow."
Last month witnessed 90.7 per cent ($241.7m) of bets made online, producing $11.9m in revenue. In addition, retail betting generated the remaining $24.8m in wagers, which produced $1.5m in net receipts.
In December, Caesars took its familiar position atop the online market with $90.1m in wagers, which yielded $3.6m in net receipts. DraftKings was second with $72.3m in online wagering, producing $3m in revenue.
Diamond Jo Worth led the retail market with $6.2m in bets, yielding $271,676 in revenue. Ameristar Council Bluffs was second with $5.5m in wagers, which led to $384,513 in net receipts.
"No marketing push from an operator can compare to the enthusiasm that a hot local team can create, and the football and basketball programs at Iowa and Iowa state have had significant success over the last four months," Mitchell added.
"Sportsbooks have benefitted mightily, spurring four months of records to end what was already a great year for the industry."