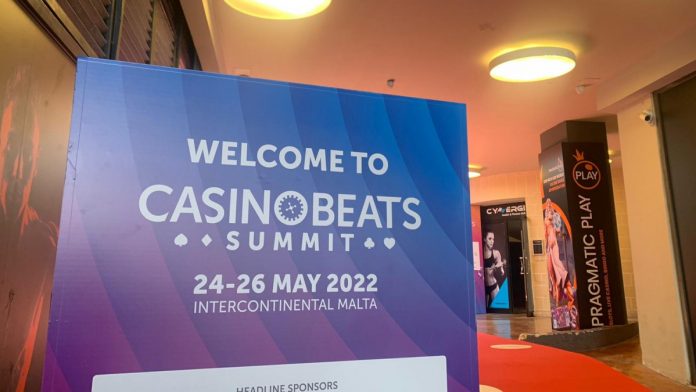 An age-old dilemma was the first point of a call for Conference Room 1 as the CasinoBeats Summit 2022 clicked into gear, with the quandary of truly making a game stand out from the crowd duly confronted head on.
With proliferation a key theme across the 45 minute session, talk eventually shifts to the "really really hard" nature of having the confidence in a single game as well as the necessity to adapt or risk becoming irrelevant.
"The quality of course, you can, especially starting off to get the quality up you need to get your name remembered … with so many competitors out there that, as a player they have too many choices," begins David Stoveld, COO of Armadillo Studios, when quizzed on the quality versus quantity debate.
"They'll maybe give a five minute spin on a game and if they don't like it they'll try another one, but I think after three or four they're going to recognise the brand and quality is going to suffer for the company as well as the actual games. The quality is super important and operators can be extremely picky at this point."
However, for Benedict McDonagh, CEO of Green Jade Games, there's a much wider change that needs to occur as opposed to simply trying to make a singular title stand out from the crowd – a way of thinking that has driven the firm from day one.
"Our solution was to not try and make a slot game stand out through marketing or alternative features and functionality, it was to change the game," it is noted.
Adding: "There's a significant increase in the number of games coming to market, at a faster rate than there are players coming to casinos. The inverse should actually be true."
Furthermore, a belief is also shared that that operators, affiliates, and new businesses, rather than a games developer, "have far more of a positive impact, or the ability to impact" what games can ultimately become successful, or not.
Moving on, the maiden session of the Soft2Bet sponsored 'Its All Casino' track also hears how "a game developer can create content with all the best intentions and expectations with how it will perform in the market, but there's so many external factors that can influence the potential performance"
McDonagh also cites the "significant growth metrics" of wider complementary markets, such as social mobile gaming, emphasising that approaches taken elsewhere are "exactly relevant" to gambling as well. 
These techniques, stated the GJG CEO, includes the integration of "soft factors" that affect the experience, including the ability to change an avatar, that the industry must "do a better job of bringing into regulated gaming".
"The players are telling us what they want with their decisions anyway," McDonagh continued. "If you look at Swedish regulatory data I think there were seven per cent of adults playing casino in 2015, and when you look at the 2021 data it's four per cent of adults.
"Now, there will be other factors affecting those numbers in terms of the grey market etc, but we've seen that customers who would naturally have signed up to play at casino sites looking for that excitement are seeking that elsewhere."
A point that Michael Pedersen, CCO of Livespins, picked up on when asserting the necessity of delivering a more connected entertainment experience.
"I guess our trend is more like … we can't just stay in this isolated mode of playing slots," he commented. "There is a new space, a new sort of way of entertainment, where it's a more connected experience coming out.
"I think there's many types of different ways of doing that, it can be a multiplayer slot, it can be what we're doing at Livespins, sort of a wrapping around traditional slots, or cash games, or whatever it is, but we have to think the player is being exposed to a much more so connected entertainment experience. 
"And we strongly think we need to adapt to that inside igaming, or risk becoming sort of slowly, slowly irrelevant.
"And suddenly a bigger, bigger player segment that is looking for this, and is getting this outside of gaming. So we're not just competing inside the industry, we're competing for time, or Netflix, or Disney Plus, or Apple or whoever it might be."
————–
Organised by SBC, the CasinoBeats Summit 2022 conference and exhibition will take place on 24-26 May at the InterContinental in St Julian's, Malta.
The summit features a conference agenda that focuses on igaming industry leadership, the next generation of slots and live casino games, emerging markets, the impact of wider technological developments on the gaming industry, and marketing strategies. Delegates will also have access to a programme of networking events and an exhibition featuring the latest innovations and games releases from leading suppliers.
Find full details, including how to book a pass, at the CasinoBeats Summit website.