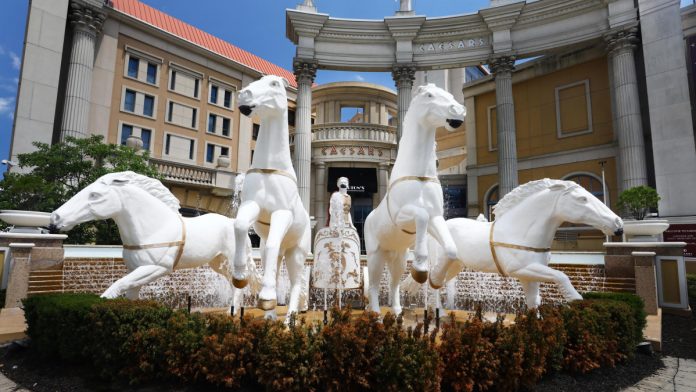 Caesars Entertainment and SL Green Realty have united to outline a Times Square casino vision as the battle to win one of three licences in the region hots up.
As numerous gaming operators and property developers set their sights on one of the highly sought after certifications, Caesars and the real estate investment trust, which would redevelop 1515 Broadway, promise to deliver "major economic benefits to all Times Square stakeholders".
"Caesars is thrilled to partner with SL Green in connection with a five-star project that will meet and exceed New Yorkers' expectations for world-class entertainment, immediately enhancing New York City's tourism engine and elevating this one-of-a-kind global destination to new heights," commented Tom Reeg, CEO of Caesars.
"As one of the largest mobile sports books in New York, Caesars is passionate about New York itself. Caesars is also deeply invested in New York-based restaurant groups, chefs, and entertainers from across the Empire State."
The partnership, said the pair, will make "significant investments" in security, traffic, and mass transit improvements, accelerate economic recovery for surrounding businesses and create good-paying union jobs for New Yorkers should its pursuit of a gaming licence prove successful.
"We believe that Times Square offers the best location for a new resort casino that can attract tourists and benefit local business," stated Marc Holliday, CEO of SL Green.
"We're excited to pursue this licence with Caesars and our many local partners. Our approach will ensure that under-represented communities benefit both in terms of employment and investment opportunities.
"A casino in Times Square is in keeping with existing uses in the area. Times Square is the centre of the entertainment universe. Because we are proposing a renovation, once the licence is issued, we can open quicker than other facilities, which require entirely new construction, changes in law, and will be disruptive to their local communities."
Elaborating on the plans for "one of the most visited destinations in the world," Caesars Palace Times Square vows to provide billions in tax revenue to New York city and state and accelerate the region's economic recovery through strategic partnerships with local businesses.
Further proposals include "significant security and traffic improvements" to foster heightened visitor safety, improve mass transit, encourage pedestrian travel and mitigate vehicle congestion in the area, pursuant to a proposed traffic plan to be included as part of the project.
Caesars Rewards members would also be able to use credits at Broadway shows, local hotels, restaurants, retail stores, comedy clubs, entertainment venues and more, in a bid to increase tourism and employment opportunities.
The venue is slated to be 100 per cent privately funded, and would see Caesars licence its brand and manage the operations under a long-term management contract. Caesars Palace Times Square would also be designed to include a Broadway Theater for The Lion King.
"We know how to bring crime rates down in Times Square because we've done it before," noted William Bratton, former New York City Police Commissioner.
"With better security infrastructure and 24/7 monitoring, we can anticipate and prevent crime – we just need the financial and political willpower to do so.
"SL Green and Caesars' proposal for Times Square goes beyond routine, in-house security and would invest millions in a new public-private safety initiative. This investment will ensure Times Square is safe for years to come."
Last month, Related Companies and Wynn Resorts outlined a competing proposal in pursuit of a downstate casino licence, with its plan for a gaming and entertainment resort destination focused on the Western Yards at Hudson Yards.
This venue along the Hudson River, it was said, would deliver thousands of permanent and construction jobs and billions in direct and indirect tax revenue to the state and city.