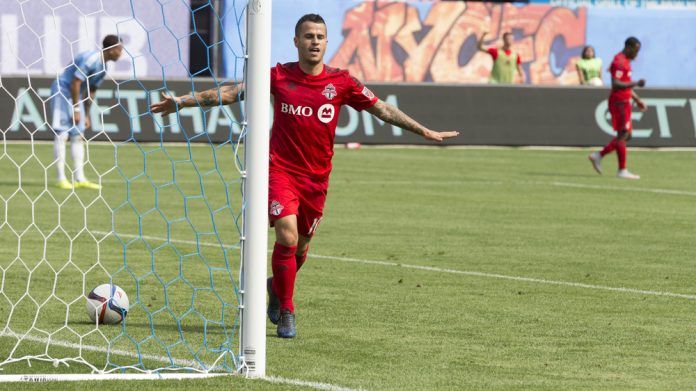 Italian striker Sebastian Giovinco has been added to the Bet99 brand ambassadorial roster after entering into an agreement with the Canada-based online sports betting and casino platform.
Under the terms of the agreement, Toronto FC's all-time leading scorer has permitted the usage of his name, image and likeness for marketing and advertising purposes both during and after the FIFA World Cup.
Furthermore, the ex-Parma, Juventus and Al Hilal frontman will also provide insight into the Canadian and international football ecosystem, as well as sharing love for his newly-adopted country and city as well as his future within the sport.
"We're thrilled to have drafted Sebastian to the BET99 team," said Jared Beber, CEO of BET99. 
"His stature and record in the Canadian and international soccer community is unparalleled, and the insights and excitement that he'll bring to Team Canada, our players and our platform is a game-changer."
Bet99 and Giovinco will launch the partnership on social media through a number of celebratory fan giveaways, including signed merchandise. Giovinco will also host an Instagram Live appearance with BET99 and provide picks and predictions for upcoming World Cup games.
He will also post pre-game and half-time hits, led by OneSoccer writer and sportscaster James Sharman, that will be shared on all Bet99 channels.
Giovinco joins Bet99's roster of professional athletes, which includes UFC Hall of Famer Georges St-Pierre, NHL All-Star Auston Matthews and two-time Olympian Alysha Newman
"Partnering with Bet99 is a great opportunity and this is perfect timing," said Giovinco. "As the World Cup heats up and Canada makes a run for the first time in 36 years, I'm really excited to join a truly Canadian online sports betting company in rooting for the team. And joining this top-notch roster of Bet99 ambassadors is an incredible honour."
Last month, shareholders of Kings Entertainment Group "overwhelmingly" voted to green-light the reverse takeover transaction with Sports Venture Holdings.
A "near unanimous" approval involving the acquisition of the parent company of the Bet99 brand was the key resolution passed at the 2022 annual general and special meeting of shareholders.