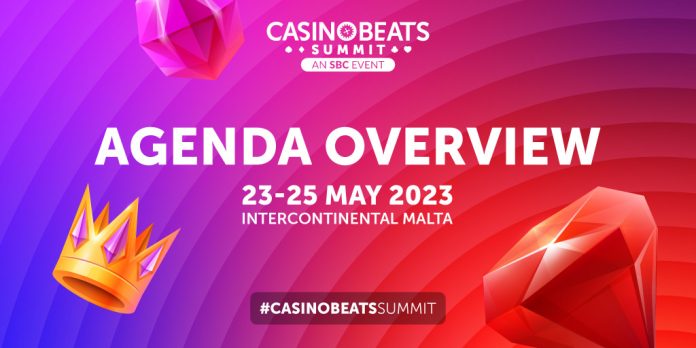 The upcoming CasinoBeats Summit (23-25 May) is one of SBC's most focused industry events, allowing senior igaming professionals and decision-makers to exchange thoughts about the new trends and the intricacies of the industry as well as create meaningful connections.
Historically, SBC has placed a great emphasis on delivering a strong conference agenda that offers unrivalled insights by bringing in the industry's most influential thought leaders to share their experiences and projections on the ever-evolving igaming industry.
Here, SBC's Senior Conference Producer, Natalie Lees, Editor of the CasinoBeats news portal, Craig Davies, and Senior Journalist, James Ross, examine what makes the event an unmissable educational opportunity for the attending delegates.
SBC: The new tagline of the 2023 edition of the CasinoBeats Summit reads 'The Future of Play – iGaming Strategy, Innovation & Development.' How does this tagline fit into the conference agenda of the show?

NL: In short, every single session reflects this year's focus on strategy, innovation and development! The industry is increasingly pushing for product innovation as casino brands strive to differentiate themselves from the competition, attract new audiences and stay ahead of the curve. Moreover, the igaming industry is evolving at breakneck speed, with new regulations coming in to disrupt the status quo and the ways business is conducted in this volatile, transitional environment.
Given all that, we realised it was essential to give our speakers a platform to share this knowledge and help the audience navigate the opportunities, complications and game-changing advancements that have been playing a fundamental role in defining today's igaming industry.

CD: Every individual attending the fifth edition of the CasinoBeats Summit will come to understand how strategy, innovation and development have been at the forefront of our minds when carefully crafting an agenda that features something for everyone occupying a part of the igaming space.
The conference panels offer a deep dive into the product novelties and regulatory changes that have been the driving force behind the developing trends and help the audience get an improved understanding of the igaming industry and its intricacies.

JR: Our conference team has done an admirable job producing a conference agenda that covers pretty much every area of discussion within its sessions and focuses on the future. The agenda not only concentrates on technicalities and mechanics but also highlights the importance of creating immersive experiences for players, establishing an authentic voice and understanding player psychology — all these aspects are instrumental in developing and implementing a successful strategy in a highly-competitive environment.
SBC: Natalie, what topics will be discussed during the CasinoBeats Summit, and who is the target audience for this content?

NL: We will have five conference tracks running across the two days as we focus on making it easier for the attendees to identify content relevant to their business.
CasinoBeats Summit is a product-focused event, so on the main stage, we will have our 'Casino Slots Focus' and 'Casino Product Focus' tracks that go in-depth to dissect the latest developments and trends in the industry.
We will have guest appearances from industry experts in video gaming, offering insights on the latest trends in their area and how modern casino brands — game studios or operators — can implement them to modernize their offerings and attract new audiences. If you're interested in game design and mechanics, this is a stage to follow.
We will also have a separate stage for casino affiliates to allow this audience segment to examine the issues they face today and the future of affiliation moving forward.
The 'Leadership' track makes a regular appearance on SBC's conference agendas, allowing us to take a closer look at the strategic decisions that can skyrocket the business.
Finally, the 'Global Casino track' is a fantastic opportunity to improve the audience's understanding of the most prominent or up-and-coming igaming jurisdictions."
SBC: Natalie, could you tell us more about the new interactive conference formats you introduced?
NL: ​​For CasinoBeats 2023, it is all about making conversations even more valuable for the attendees. We are adding interactive workshops (delegates will have to pre-register to attend) to ensure that the audience meets some of our speakers in person and gets the most out of the educational sessions. This is something I am personally very excited about. We will have PPC, ESG and payment-related workshops, to name a few.
During our previous events, we noticed that the 'panel discussion followed by a Q&A' format can be a little too 'structured' and hinder an open discussion between the speakers and the conference attendees. To improve that, we have chosen a new way of running Stage 2 (dedicated to leadership & affiliation) that will allow the audience to draft their questions throughout the panel and post them to the stage for the speakers to answer.
Last but not least, we are holding a live vote for one of our award categories at the Game Developer Awards on the final event day. If you want to support the shortlisted participants, make sure to come and place your vote!
SBC: While the agenda is not yet fully finalised, those interested can already access the panel descriptions on the brand-new CasinoBeats Summit website. Are there any specific agenda topics or speakers that caught your attention?
NL: One of the stand-out elements for CasinoBeats for me is the quality of the speakers that we have. Each year, I have the privilege to welcome new talent onto the stage and the energy and knowledge they bring are just incredible. Their love for casino games and passion to understand and entertain the players are truly admirable. In terms of stand-out speakers, to be honest, for me, it's all of them — they are what makes our agendas successful and valuable.
CD: The beauty of an SBC event, and one of the key things that delegates in attendance come to expect, is that the discussions taking place are among the best that can be found across the events calendar.
While this consistency quite right brings pressure, delivering an agenda that has key touchpoints from top to bottom is a source of pride for all involved and something that we will be looking to continue in Malta in May.
With that being said, I would find it difficult to pinpoint one, two or even a handful of standouts, our team will produce an agenda that is littered with them.

JR: Some of my personal favourite sessions are the following: 'Slot Studio M&A – innovation vs. acquisition,' 'Protecting players during inflation,' 'Game mathematics & player psychology' and 'Video gaming in slots – what's the story?' I am impressed by the number of product-focused sessions this year, and this is what makes the CasinoBeats Summit 2023 agenda stand out. It is specific, it is helpful, and it is (at times) technical.
SBC: Craig, James – The CasinoBeats Summit agenda displays a strong focus on the product side of things, and you've been covering igaming for quite a while now. What are the main trends that will be discussed during the Summit?
JR: The metaverse saga is a given — though I don't foresee any progress made, which makes me curious to hear what our speakers expect in that area moving forward. Regulation will definitely be a strong topic.
Over the last few months, we have also seen affiliation come under the spotlight with Twitch, that'll no doubt rumble on with new pathways beside the platform and stricter regulation set to come.
Moving away from the traditional igaming titles and heading towards non-traditional games to engage new audiences is another trend that will dominate the discussion. Crash games could factor in — it is now a staple in the igaming genres along with slots, table games and live casino.
2021 has witnessed an abundance of mergers and acquisitions. This begs the question if companies are looking at pulling a Disney and acquiring independent studios will be a topic that will receive a high amount of attention. It will be interesting to see whether this 'trend' will hinder creativity and whether small studios will focus on being acquired instead of innovating.
Finally, while sponsorship is seen as more sports betting, there might be a potential crossover to game endorsement.

CD: Although the UK gambling review has seemingly been labelled for publishing imminently for all of 2022, should this finally occur before the event, as it arguably should, this will undoubtedly be a topic for intense conversation.
Some recent trends are a given, such as the metaverse, although, as James does suggest, the progress made is questionable. Crypto is another mainstay that is going nowhere any time soon, with the crypto vs FIAT battleground set to be entered once again.
Elsewhere, we have witnessed a steady incline in crash games as we have edged towards the end of 2022, so you would expect some intense debate here too.
SBC: The agenda features a selection of jurisdiction-specific panels and a roundtable discussion focused on emerging markets. How can these benefit the operators, affiliates and suppliers attending the conference?
NL: Emerging markets are one of my favourite things to look at. There is a wide range of topics to be discussed from that perspective — from localisation needs and the required support from the affiliates to grow player databases to operators and suppliers that support the regulation, infrastructure and player protection.
A new market opening can translate into more job openings and discovering new ways to entertain players — after all, fun is the main reason we play casino games.
CD: On a personal note, this is a track that is consistently a favourite of mine and one that I will always endeavour to spend as much time attending as my time will allow. While these markets are anything but alien to anyone who will be attending, it's great to hear experts of each dissect the latest goings on and what developments we could potentially be witnessing in the short and long term.

JR: The 'Global Casino' track is a cracking idea — an in-depth analysis of different countries is needed with how diverse each is becoming.
The landscape for affiliates is becoming stricter and stricter, so to hear about any future developments that could impact how they promote in each jurisdiction would be invaluable to prepare for.
Operators will also need to familiarise themselves with the different guideline changes to operate efficiently and without unnecessary fines being thrown. The same can be said for suppliers, who will benefit from knowing what licences are required and what can be included in their titles (buy-ins, turbo play, stake limit).

Book your pass for the 2023 edition of the CasinoBeats Summit at the special Super Early Bird rate of €295 or contact [email protected] for details on exhibition and sponsorship opportunities.