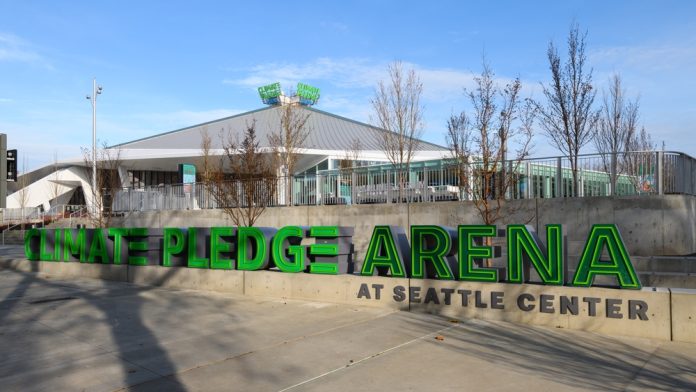 NHL team Seattle Kraken and its stadium partner Climate Pledge Arena have inked a sponsorship deal with Muckleshoot Indian Tribe, allowing the latter to become its first-ever jersey patch sponsor.
Becoming the first Indian Tribe to hold a jersey sponsor in the NHL, the Muckleshoot logo will be placed on the right chest of both Kraken's home and away jerseys where it will be visible to all fans of the league.
"This joyful day brings with it a sense of hope, hope that our young people will see themselves represented by the team in the heart of Seattle and around the country with our Tribe's logo on the front of every Kraken jersey," explained Muckleshoot Tribal Chair Jaison Elkins.
The multi-year partnership has been formed to celebrate the important contributions that the Muckleshoot Tribe has made in the home of the Kraken.
The deal has furthered a relationship between the three entities, after the tribe previously blessed the ground of the then-under-construction Climate Pledge Arena in October 2019, which lies on the ancestral grounds of the Coast Salish people.
Donny Stevenson, Vice Chair of Muckleshoot Indian Tribe, said: "It goes all the way back to that listening session and arena blessing back in 2019. That laid the groundwork for the Kraken being involved in a way that, frankly, wasn't a requirement [of the separate casino sponsorship agreement]. 
"That's how you build a relationship organically to arrive at the cool, really kind of crazy day we celebrated. You don't run into that very often, where goals, priorities and values of organisations align so closely."
Under the terms of the agreement, a multi-sport court will be built on the reservation while Kraken aims to create programs in order to increase access for Indigenous youth.
Stevenson continued: "In terms of Indigenous identity, the reality is what's good for one is good for all. When we make decisions as leaders of Indigenous people, it's not only our family that we have to look at.
"It's not only our village we look at. It's not just the entire community, it's really the entirety of the Indigenous population. What's good for Muckleshoot ultimately ends up being good for all of Indian Country."
Kraken players have also played their part in the collaboration as the team's center Morgan Geekie recently visited a tribal school in the area, helping kids take part in a floor hockey class.
"We launched our franchise with an eye to the future and an acknowledgment of the past," added Tod Leiweke, Kraken CEO.
"This partnership manifests our gratitude and respect for the Muckleshoot People, past and present, who are the ancestral keepers of the land upon which Climate Pledge Arena sits and we play. We strive to amplify the voices of our Native Community."