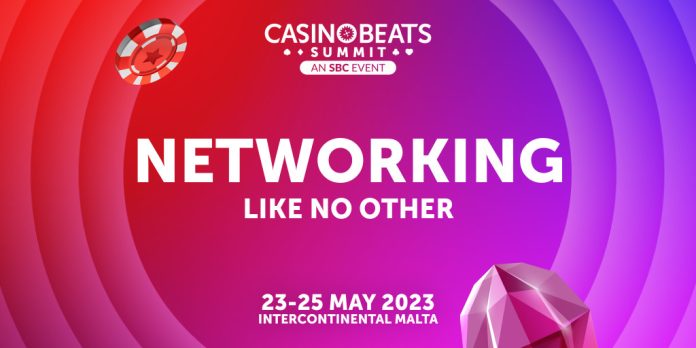 SBC invites all casino-focused professionals to take advantage of an array of evening networking events at the fifth edition of the CasinoBeats Summit, taking place in Malta on May 23-25.  
This year's Summit promises to be bigger and better than ever before, bringing together the most coveted industry decision-makers, creative minds, product specialists and tech gurus working in game development.
As part of the CasinoBeats experience, SBC will offer all attendees a variety of exciting networking opportunities throughout the event. After the core exhibition and conference hours, visitors can look forward to daily evening networking events where they have the opportunity to network with top professionals in a relaxed and convivial atmosphere.
Rasmus Sojmark, CEO & Founder of SBC, said: "We understand that networking and building relationships are crucial to the success of any professional in the gaming industry.
"While the conference and exhibition provide ample opportunities to meet and connect with industry peers, we recognise the importance of fostering these relationships in a more relaxed setting."
The attendees will have an exclusive opportunity to kick off their event experience by attending the pre-event networking reception at InterContinental's SKYBEACH Bar on Tuesday, 23 May. Not only will they be able to collect their conference badges, but this will also provide a chance to chat business and make valuable connections before the event even begins amid a surrounding of breathtaking views of the island and the stunning lights of Saint Julian's.
Day one's action will come to a close with the 'Seaview Social' party at The Edge Restaurant at Radisson Blu, an event sponsored by Delasport and Octoplay. Attendees will be treated to complimentary drinks, food and entertainment as they soak up the evening Maltese sun in a luxurious setting. 
On the second and final day of CasinoBeats Summit, attendees will be treated to the highly-anticipated CasinoBeats Game Developer Awards ceremony, held at the InterContinental Hotel. With over 400 industry guests in attendance, this gala event hosted by Trudy Kerr will celebrate outstanding achievements and ongoing innovations in casino game development. 
With 19 trophies to be awarded in give different categories, including Game Performance, Game Creation, Game Marketing, Game People, and SlotCatalog Awards, this is an occasion not to be missed and, crucially, requires a separate ticket.
To close out the summit with a bang, those in attendance can celebrate their newfound connections and successes at the CasinoBeats Summit Closing Party at Infinity at Hugo's, located in Saint Julian's, with a poolside views, complimentary drinks and DJ entertainment. 
"Our evening networking events offer attendees the chance to unwind, explore new connections, and strengthen existing ties, Sojmark added.
"As a team, we believe that the connections made at our events can be the foundation of future collaborations and achievements in the industry. So, come and join us at CasinoBeats Summit, and let's make connections that will last a lifetime."
Featuring a conference agenda that boasts over 160 speakers and an interactive exhibition floor, the main event theme of this year's Summit is 'Future of Play.' Attendees will gain insights into the latest trends and innovations shaping the industry's future, as well as exchange ideas, get inspired and score key business deals.