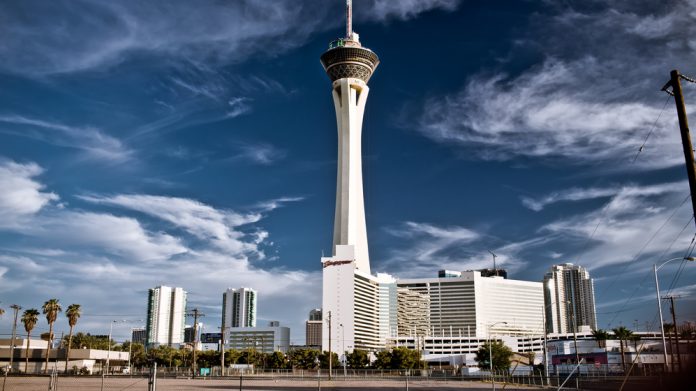 Golden Entertainment has emphasised plans to expand its portfolio with the introduction of six new taverns throughout 2019, with revenues for the fourth quarter and full year of 2018 rising.
Strengthening its position within Laughlin, Nevada, via the acquisition of Colorado Belle Casino Resort and Edgewater Hotel and Casino, Golden also revealed plans to build upon its three new tavern openings in 2018 with a further six during 2019.
The company also revealed that its ongoing development of Las Vegas' The Stratosphere remains at approximately $140m, with the project expected to be finalised in 2021.
Blake Sartini, chairman and chief executive officer of Golden Entertainment, addressed the moves being made by the organisation: "The 2018 fourth quarter concluded a transitional year for Golden Entertainment. We made considerable progress expanding our scale and diversification, along with developing initiatives to improve results from our operations.
"During the quarter we improved the economics of our Nevada distributed gaming business, through contract renegotiation's and rent re-sets across approximately half of our third party distributed chain store locations in Nevada.
"We also continued to expand our branded tavern portfolio with three new taverns opened in 2018, and we plan to open six new taverns in the first half of 2019.
"More recently, we significantly strengthened our market position in Laughlin through the acquisition of the Colorado Belle Hotel and Casino Resort and Edgewater Hotel and Casino Resort.
"With this acquisition, we now own about 40 per cent of the approximately 10,000 room inventory in Laughlin. We are excited to expand our presence in this value-oriented gaming market, and expect to realise future cost synergies across our combined Laughlin operations."
Adding: "With our expanded scale and The Strat renovations moving forward, we are now integrating our new casino management system and launching our new True Rewards players club, which will allow players to earn and redeem points across all our properties.
"As we look at the healthy economic environment in Las Vegas, our leading position and synergy opportunities in Laughlin, our success in rationalising the economics of our third party distributed chain store locations in Nevada, and our plans to stabilise and grow our existing platform, we believe Golden's future is bright and we expect to see the benefits of our efforts over the course of 2019 and beyond."
Total revenue for the fourth quarter saw a 14.3 per cent increase to $210.1m (2017: $183.7m), with its full year performance boosted 67.9 per cent from $507.1m to $851.7m.
Breaking down the figures further, Golden's gaming segment saw a 9.7 per cent and 37.7 per cent rise for Q4 and FY, coming in at $131m (2017: $119.3m) and $525.1m (2017: $381.3m).