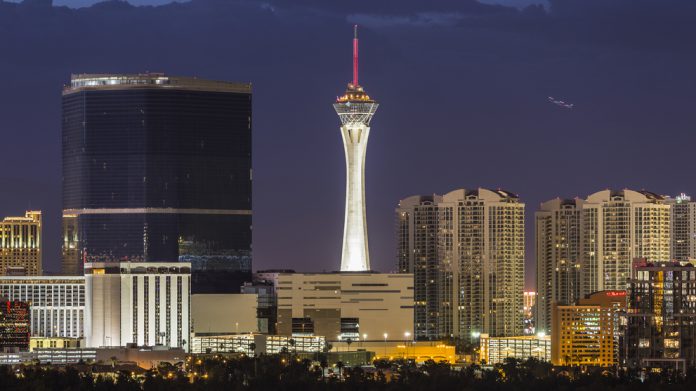 Golden Entertainment has reported record quarterly revenue and adjusted EBITDA, as renovations of its Las Vegas-based Stratosphere Casino, Hotel and Tower continues apace.
A Q1 revenue boost of 11.7 per cent saw figures soar to $239.9m from $214.8m, complemented by EBITDA of $48.4m, a 5.5 per cent jump from $45.9m, with results for the first quarter including the operations of the Edgewater and Colorado Belle Casino Resorts, acquired by the company in January.
Golden Entertainment's casino segment saw revenue surge 16 per cent to $151.4m (2018: $130.5m), primarily driven by the previously detailed acquisitions located in Laughlin, Nevada.
This helped offset the anticipated construction disruption at The Strat, in addition to the installation of a new casino management system and rewards program at The Strat, Arizona Charlie's Decatur, Arizona Charlie's Boulder and the Aquarius Casino Resort.
Furthermore, it was detailed that renovation of the Strat remains on schedule and has seen an outlay of $38m thus far, with the project expected to be completed in 2021 at a total cost of £140m.
Blake Sartini, chairman and chief executive officer of Golden Entertainment, said of the company's performance: "During the first quarter, we continued our progress on a number of significant initiatives for the company. In March, we opened our new sportsbook, View Lounge and Blvd and Main Taphouse in The Strat, which all have been very well received by our guests.
"We are starting renovations of The Strat casino floor in May to conform the casino environment to these exciting new venues, and anticipate completing these renovations by the end of the year.
"We are also well on our way with the integration of our two new casino resorts in Laughlin, and expect to see improved contribution from our Laughlin assets as we begin to realise synergies in future quarters.
"During the first quarter we saw improvement in our distributed gaming business, which is expected to accelerate as we continue to open new taverns and improve chain store performance in Nevada.
"Importantly, we started the rollout of our new TrueRewards players club, which will allow us to incentivise our players to earn and redeem points at all our wholly-owned casino resorts and distributed gaming locations.
"As we look at the healthy economic environment in Nevada and the potential opportunities that this provides our business, we believe Golden Entertainment is positioned to benefit from our strategic efforts and create long-term value for our shareholders."