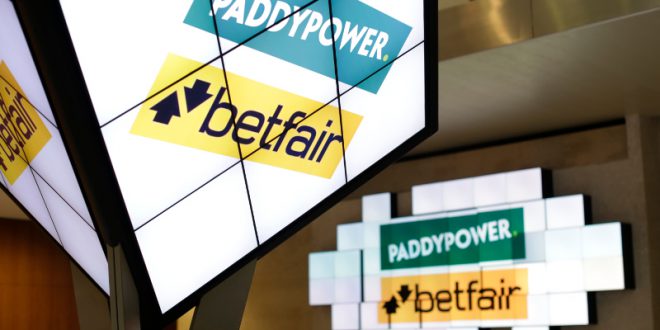 Flutter Entertainment, the rebranded Paddy Power Betfair, has seen its US casino operations continue to gain momentum as the group saw revenues 'exceed expectations' with an increase of 67 per cent during Q3. 
Publishing its interim trading report for the three months ended September 30, Flutter reported that its US casino revenues had jumped by 174 per cent as the group continues its expansion across the regulated market. 
The group has attributed its revenue growth to the 'cross-sell' of its casino products to the FanDuel sportsbooks which have launched online sports betting in Indiana, New Jersey, Pennsylvania, West Virginia. 
Flutter expressed hope of further successes across the US, highlighting that the group's 'expected loss in the US this year is likely to be lower than previously guided. We now expect to incur a US EBITDA loss of £40‐45m in 2019 versus our previous expectation of £55m.'  
Commenting on the Q3 results, Flutter Entertainment chief executive Peter Jackson explained: "Published market share data in Pennsylvania shows that FanDuel quickly became the market leader with around 50 per cent share while we remain the clear number one operator in New Jersey also. Notwithstanding the substantial investment we are making, our strong customer and revenue momentum means that we are raising our full‐year guidance in the US."
The group, which now includes Paddy Power, Betfair, FanDuel (US), Sportsbet (AUS) and the recently acquired Adjarabet (CIS) and Stars Group, also recorded a ten per cent increase in group revenues to £533m (Q32018: £483m). 
This was complemented by a seven per cent increase in gaming revenues, which has been supported by the addition of Adjarabet, which added four percentage points to Group growth in the quarter.  
Jackson added: "Q3 was an important quarter for the Group with revenues up 10% and the announcement of our combination with The Stars Group. We believe that this deal will accelerate delivery of all of our core strategic objectives and we are very excited about the international growth prospects for the combined group."
Mirroring industry-wide trends, Flutter's Q3 trading was impacted by the company adjusting to UK responsible gambling enforcements and 'international switch-offs', whilst competing against the backdrop of strong 2018 comparatives.
Flutter Entertainment disclosed a nine per cent year-on-year decline in retail revenues, down to £75m, as the five per cent sportsbook growth was 'more than offset' by a 37 per cent decline in FOBT revenues.
The FOBT legislation meant that 'gaming revenues decreased by 37 per cent in Q3 2019 reflecting the impact of the change to FOBT staking limits since April. This compares with a decline of 44 per cent in Q2 2019 and we have continued to observe an ongoing improvement in this trend as the year has progressed.'
Jackson continued: "Within PPB, both the Paddy Power and Betfair brands continued to make good progress in building more recreational customer bases through enhanced responsible gambling measures. While revenues in the quarter were impacted by this ongoing work, we remain confident that the changes being made will improve the sustainability of future growth and lead to a more diversified customer base for both brands.
"In our retail business, we have seen an improvement in gaming revenue trends month‐on‐month and this trend has accelerated since the start of the fourth quarter as competitors have started to close shops across the UK."