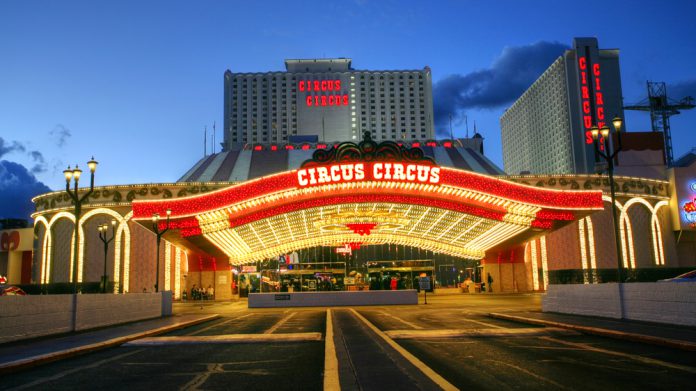 An affiliate of Treasure Island owner Phil Ruffin has secured the $825m purchase of Circus Circus Las Vegas from MGM Resorts International, with William Hill subsequently rolling-out a sportsbook deal with the property.
News of the original sale is said to represent a continuation of the MGM's asset-light strategy, designed to focus on core business as well as maximising value for its shareholders. 
The original agreement followed MGM and Blackstone real estate investment trust entering a new joint venture that sees the latter secure the applicable assets of Las Vegas' Bellagio for $4.25bn
"MGM Resorts has engaged in an exhaustive process to evaluate its owned real estate and remains committed to executing its asset-light strategy in a measured way that maximises value for its shareholders," Jim Murren, chairman and CEO of MGM Resorts, previously noted on the sale. 
"The company expects to utilise the proceeds from this transaction to enhance its capital allocation strategy and complement its strategic and operational flexibility."
The purchase price is comprised of $662.5m in cash and a $162.5m note due 2024. MGM Resorts plans to utilise the proceeds from this transaction to further its capital allocation strategy and enhance its strategic and operational flexibility.
MGM acquired Circus Circus Las Vegas in connection with its Mandalay Resort Group purchase 14 years ago, with the property, which originally opening in 1968, home to the 5-acre Adventuredome indoor amusement park and boasts 2,300 employees, 10-acre RV park and 37-acre festival grounds.
Ruffin commented when the deal was first announced: "Circus Circus has anchored the north end of the Las Vegas Strip for over 50 years, and I am excited to add it to my casino portfolio. 
"I have tremendous respect for Jim Murren and the MGM team, and my relationship with them goes back to my friendship with Kirk Kerkorian and continues to this day."
Furthermore, William Hill US is to also add its 114th Nevada location as sportsbook operations began at Circus Circus Las Vegas.
The new entity will be renovated after the Super Bowl with plans for a grand opening celebration ahead of the 2019/2020 March Madness College Basketball Tournament. The remodeled space will feature updated video screens, odds boards, seating and more.
 "Phil Ruffin has been a great partner, and we look forward to working with him as he breathes new life into this iconic property," said Joe Asher, CEO of William Hill US. 
"Circus Circus is a Las Vegas landmark with more than 50 years of history. The north end of The Strip has so many new and updated offerings opening over the next few years and we're excited to plant another flag in this part of town."