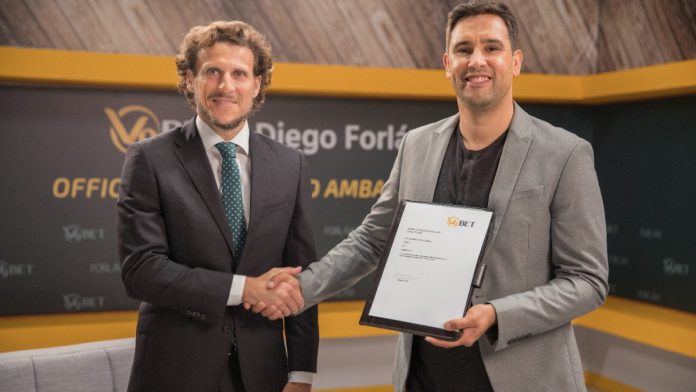 Online gaming operator V9Bet has unveiled former Manchester United and Uruguay striker Diego Forlán as its first ever brand ambassador.
In his new role, Forlán will assist in promoting the brand across the Asia region through a series of branded content where he will give his thoughts and insights ahead of Euro 2020, whilst joining other V9Bet members at the summer tournaments final in July.
On his appointment the two-time Pichichi Trophy and European Golden boot winner said: "V9Bet represents a young and lively brand in the market, and it is the leader on sports gaming."
Currently the manager of Club Atlético Peñarol, Forlán's career included playing for numerous clubs such as Manchester United, Villarreal, Atletico Madrid and Inter Milan.
The Uruguayan continued: "It is my pleasure and honour to be the ambassador of V9Bet, to represent their brand, image and spirit."
Established in 2012, V9Bet specialises in sports gaming for over 500 different major and minor leagues from various regions.  They also provide products such as live casino, slots, lottery and virtual sports.
A spokesperson for V9Bet added: "We are proud to announce Diego Forlán as our 2020 official brand ambassador for V9Bet. We hope this partnership brings more trust and assurance to our valued members."
Managing director of Mediapro Asia, Lars Heidenreich, commented on Forlán's appointment: "We are always pleased to present great opportunities to both parties, bringing greater focus for the brand and delivering memorable moments to Diego Forlán's fans around the world."