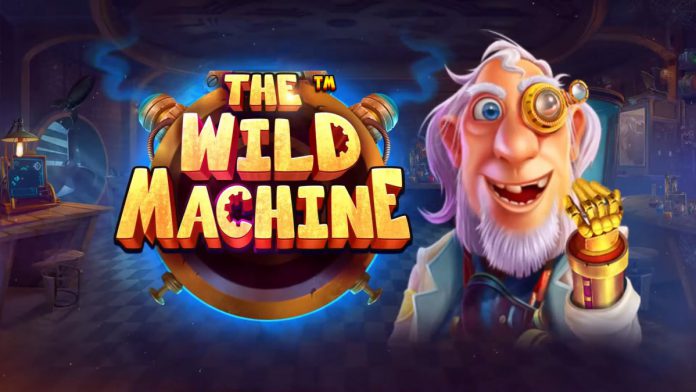 As a number of new igaming titles grace the CasinoBeats inbox, sit back and get to grips with a select few new slot games in one handy bite-size chunk.
Pragmatic Play – The Wild Machine
Pragmatic Play's new title slot The Wild Machine places you in a diabolical lab, run by an eccentric scientist, as players fire up the machine in a hope to land winning combinations.
This 5×5 grid has four wild machines at four points of the reels, which can randomly expand into wilds either across or down the board.
The symbols available in the game include low pay car suits which include the hearts, diamonds, clubs, spades and mid pay keys, the compass and bags.
Random wild spins can occur at any time during the base game and when the Doc pulls the lever. Once this happens the grid changes to a 1-3-5-7-3-1 configuration with reels 1, 4, and 7 completely wild. This lasts for one spin and resets in preparation for the next.
 "The Wild Machine is an exhilarating new addition to the Pragmatic Play portfolio. With its quirky theme and fun gameplay, combined with random-trigger features and a lucrative bonus round, The Wild Machine will be manufacturing fantastic Pragmatic Play slot experiences for fans worldwide." – Melissa Summerfield, chief commercial officer at Pragmatic Play.
Skywind Group – La Casa de Papel
"Pull off the heist of the century" in Skywind Group's latest slot release La Casa de Papel, as players team up with Tokyo, Nairobi and the rest of the team enter Spain's La Fabrica Nacional de Moneda y Timbre (The National Mint and Stamp Factory).
Based on the on the Netflix Spanish television heist crime drama series, this 2-reel, 1-line slot game, players must make a choice, escape with the money or spin the vault and risk it all.
As the printing press kicks into action, the Heist special feature begins. Each new day grants three spins, meaning there are three opportunities to "print money" and win the value presented on the printed notes multiplied by the coin bet.
At the end of each day, players must make a choice, escape with the money or spin the vault and risk it all for another day.
"La Casa De Papel is a worldwide hit, and our goal was to capture that drama and personality by putting the player in charge of the heist, a high frequency bonus game where time is money,
"Our goal is to create quality entertainment, and that means quality games.
"We're not only entering new markets and expanding on our market-specific content; we're also tailoring and improving performances for every one of them.
"La Casa de Papel is just one example that shows our motivation and strengths. Stay tuned, there will be more exciting things coming soon". – Uri Cohen Skywind Group's, VP operations and content.
https://www.youtube.com/watch?v=25fJZNukFq4
Booming Games – Gladiator Arena
Experience the glory of the Colosseum in Booming Games new slot title Gladiator Arena, as players can choose their opponent and go toe to toe in a battle of tactics.
This 5×3, 20-line reel takes players to Ancient Rome to compete against gladiators and lions in the historic Colosseum in an attempt to be victorious.
Rewards will be based on the type of opponent the player chooses to face. Tougher enemies, such as the lion, can award up to 1000x your bet whilst old and weathered veterans will offer lower rewards.
"This 5×3, 20 line, medium volatility slot is sure to be a blockbuster with all of your players. Players can really develop their own tactics for how to maximise their profits in the Battle feature, with 3 different payouts available for each opponent ranging from 15x to 1000x." – Shane Cotter, director of product at Booming Games.
Play'n Go – Testament
Play'n Go's latest title invites players to join thrash metal band Testament in its new branded slot based on the bands 2012 Dark Roots of Earth album.
This 5×3, 243 payline video slot can increase up to a 4-5-6-5-4 size with 2,400 way to win during the free spins feature as dark and sinister symbols dominate the reel.
Hitting two scatters on a spin becomes an opportunity to score a sizeable win, instead of a teaser, as it will trigger the song feature, during which all skull symbols will turn into wilds.
The Dark Roots of Earth modifier will spread wild symbols up and down to create more wilds. The Thrones of Thorns will expand the reels and the Cold Embrace will freeze all wild symbols for the duration of the feature.
Martin Zettergren, Play'n Go CPO, stressed the importance of authenticity in creating their music slots: "Creating a slot based on a band or artist carries an extra weight to it. You have to create a fun, unique slot for players to enjoy, but also represent the band and their music to fans accurately.
"This game is another 'Testament' to our talent for creating entertaining slots, and our diligence in doing so."