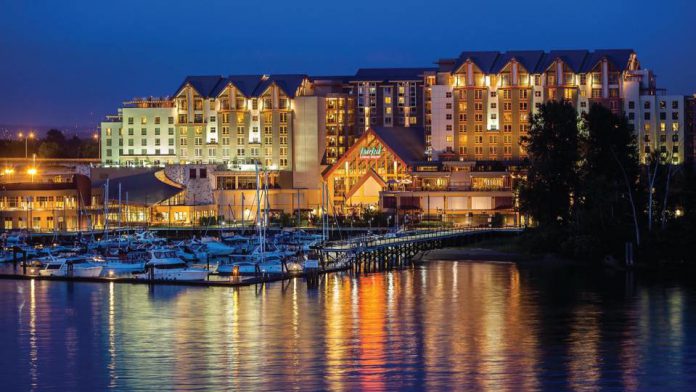 Great Canadian Gaming Corporation is focusing on the health and safety of employees and guests as the casino operator works towards developing a plan to enable a successful business relaunch when viable to do so.
Headquartered in Ontario and operator of 25 gaming, entertainment and hospitality facilities across its home region, British Columbia, New Brunswick, and Nova Scotia, the comments come as the company publishes a financial report for the first quarter of the year.
Revenue during the quarter decreased ten per cent to $273.7m (2019: $302.8m), driven by enforced closures enforced on March 16, 2020 in response to the covid-19 pandemic, and partially offset by improved revenues during the quarter in the period prior.
Adjusted EBITDA of $103m represents a six per cent fall from $109.3m due to the aforementioned closures, in response to which the company is said to have taken measures to significantly reduce its operating expenses to mitigate the decline.
Shareholders' net earnings from continuing operations of $19.2m in the first quarter decreased $11.8m when compared to the same period in 2019, primarily due to the decrease in Adjusted EBITDA, increased business acquisition, restructuring and other expense primarily related to pre-opening costs of the Pickering Casino Resort.
In addition to the temporary suspension of operations commenced in mid-March, the Government of Ontario mandated the closure of all non-critical construction projects on April 4, which temporarily halted the remainder of the company's Ontario capital projects under development.
Rod Baker, Great Canadian CEO, explained: "The health and safety of our team members and guests is the priority and we are monitoring the pandemic closely, following the advisements provided by government authorities and workplace safety best practices in preparation of re-opening of our facilities.
"In addition to the temporary facility closures, the Government of Ontario's mandated closure of all non-critical construction projects has resulted in an orderly wind-down of our active construction projects in Ontario, including the Pickering Casino Resort and Woodbine developments as well as facility expansion projects nearing completion in West GTA.
"The revised timelines for these developments will be reassessed once the timing of the government mandated closures are better understood and workplace conditions can proceed in a safe and appropriate manner."
"We are working diligently on our reopening plans during this period and when the time is appropriate, we will be ready to relaunch our businesses. We expect the start-up and post relaunch ramp up periods of our gaming facilities and capital projects under development to be a challenging time for Great Canadian and we are very fortunate to have so many dedicated and hard-working team members getting us through this difficult closure period and into our reopening phase."