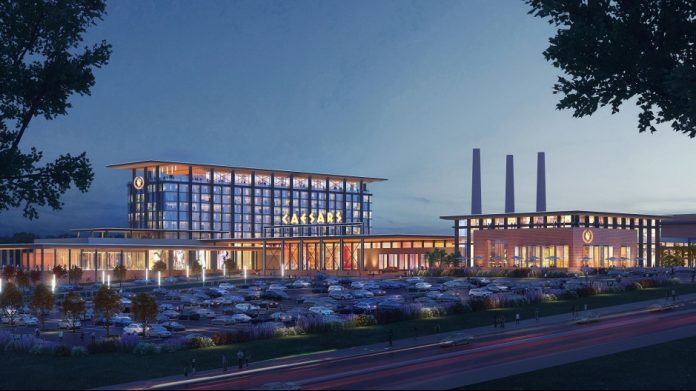 Caesars Entertainment is promising to fulfil "the trust the voters have placed in us," after its $400m casino resort development gained the green-light from voters in the Danville region of Virginia.
After receiving unanimous approval from Danville City Council earlier in the year, the 'Caesars For Danville' referendum campaign and committee was subsequently launched.
Through the firm's Caesars Virginia subsidiary, the company vowed to create 900 construction jobs and 1,300 operational jobs, in addition to bringing a $20m upfront payment to the city, $38m in new annual tax revenue, and a more than $400m investment in the Dan River region should the green-light be issued. 
The resort will include at least 300 hotel rooms, full-service spa, pool, casino gaming floor, a 2,500 live entertainment theatre, 35,000 square feet of meeting and convention space and a number of bars and restaurants. 
Upon revealing initial plans for the development, the operator stated an intention to break ground in late 2021 or early 2022. The project is aiming to transform the old Dan River Mills Schoolfield site and create a tourism engine for Danville and the region. 
Tom Reeg, CEO of Caesars Entertainment, expressed gratitude at the faith shown in the company: "Caesars Entertainment thanks the voters of Danville for their support of the referendum that will bring Caesars Virginia to Danville. We look forward to fulfilling the trust the voters have placed in us by bringing 1,300 good paying jobs, tourism dollars and economic development to the city, and we are incredibly excited to begin construction.
"We'd like to offer our sincere thanks to all of our supporters, especially the city of Danville team, our campaign steering committee, campaign committee co-chairs Delegate Danny Marshall, Mayor Alonzo Jones, Dr Tiffany Franks and Tammy Wright-Warren, campaign director Steven Gould, Josh Norris, and the entire campaign staff.
"We would also like to express our deep gratitude to the many respected business owners and citizens who shared the positive impact this resort will bring to the community with their customers, friends and neighbours. We are pleased to be welcomed into the Danville community and look forward to a long and successful future."
The decision to allow casino gaming has also been made in three other Virginia cities, with Norfolk, Bristol and Portsmouth also giving the nod. Operating partners on those developments will be the Pamunkey Indian Tribe, Hard Rock International and Rush Street Gaming, respectively.