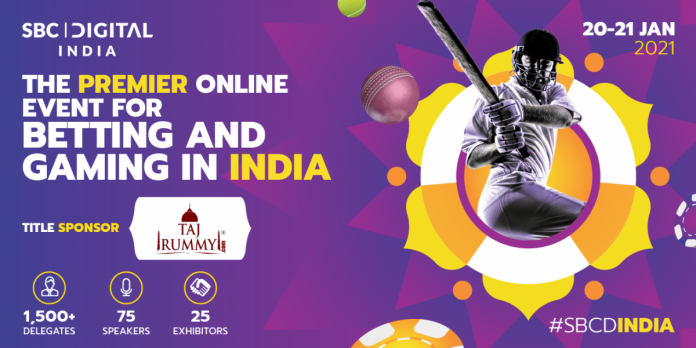 SBC has announced details of a new online conference and exhibition for the Indian betting and gaming industry, SBC Digital India 2021, and a partnership with the country's leading skill games company Taj Rummy. 
The event on 20-21 January will bring together operators, suppliers, and affiliates with an interest in the Indian sports betting, skill games, fantasy sports, and casino markets for two days of high-quality content, knowledge sharing and networking. 
It has already attracted strong interest from the domestic industry and Taj Rummy has been confirmed as title sponsor for the inaugural edition of the event.  
The conference element of SBC Digital India will see 75 senior executives providing insights and ideas about the major regulatory, operational, technological and marketing-related issues affecting the growth of the industry. The speakers' mix of on-the-ground experience of doing business in India and knowledge of the big-picture issues influencing local markets represent a valuable opportunity to gain reliable information of a type that is hard to find.
Day one's agenda will focus on the future of India's vast fantasy sports market, the legal challenges ahead for the sports betting industry as it seeks to establish itself in the country, and the relationship between professional sports and gambling companies. 
Attention will turn to gaming on day two, with an examination of the regulatory picture for land-based casinos and an in-depth look at the opportunities for rummy and poker operators. It will also feature an evaluation of the role of India's flourishing tech and fintech sectors in the gambling industry. 
Running alongside the conference is a program of networking roundtables and an interactive product display area showcasing the latest innovations from major suppliers.
The exhibitors will include India's biggest rummy brand Taj Rummy, which has an established own-brand real-money operation and a range of white-label solutions, as well as being renowned as a pioneer of the use of artificial intelligence for player protection.
Pariekshit Maadishetti, founder Grid Logic Group; Taj Rummy, will be among the key speakers at the event.
Maadishetti said: "India is already a huge market for skill games like with Rummy, Poker and fantasy to name a few, but it remains largely unexplored by overseas companies. There is still room for vast growth across all forms of gaming, but businesses that are serious about succeeding here need a product tailored to local interests and an in-depth knowledge of the market. 
"We're delighted to sponsor this new SBC event, as it will be a great opportunity for local and international companies to exchange valuable ideas, and for Indian businesses to showcase their technological excellence to the global industry."
SBC is the leading specialist media and events company for the international betting and gaming industry, and organises major conferences and trade shows, such as SBC Summit, Betting on Sports America, CasinoBeats Summit, Betting on Sports Europe, SBC Summit Latinoamérica, and SBC Digital Africa. 
SBC Digital India 2021 is its first venture into India and CEO Rasmus Sojmark is excited about the prospect of taking its successful event format to a new market.
Sojmark said: "India's huge growth potential means it is one of the markets of greatest interest to the global gaming industry, but high-quality information about regulatory change, local player tastes, and the unique operational challenges in the individual states is difficult to come by. 
"We look forward to changing that at the inaugural SBC Digital India, when we will bring together the best of the country's gaming industry and major international players to share knowledge, connect and talk business." 
SBC Digital India 2021 is free to attend. To join the Indian and international delegates set to participate in the event, click here to register.