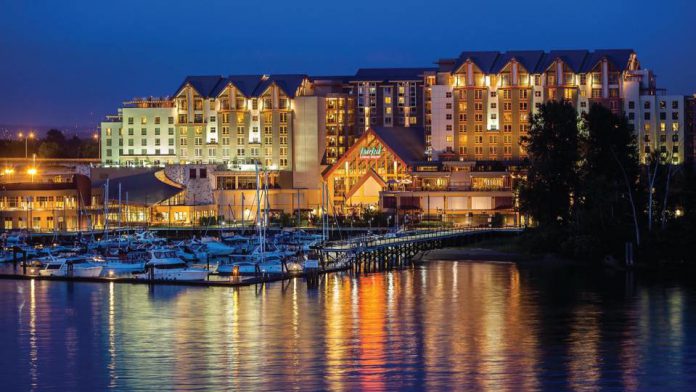 The COVID-19 pandemic continues to have a significant impact upon Great Canadian Gaming, with the group asserting that it has "reason to remain optimistic despite the challenges".
The casino operator, commenting in its latest quarterly financial update, says that visitation has been encouraging at properties that were allowed to reopen, despite the restricted conditions, with optimism also voiced on the continued vaccination roll-out.
Revenue recorded by the firm, during the period closing March 31, 2021, plummeted 81 per cent from $273.8m to $52.3m, with net loss swinging to $44.2m from a $28.5m profit during Q1 2020, and adjusted EBITDA down 80 per cent to $20.5m (2020: $103m).
The company operated certain gaming properties in the Ontario and Atlantic regions under restricted operating conditions for a portion of the quarter, but was required to temporarily close the majority of these at various dates due to localised health authority mandates. 
At the period's close, all properties, except for the Atlantic venues, Elements Casino Grand River and Shorelines Casino Belleville, were closed. Subsequent to quarter-end, the remaining Ontario and Casino Nova Scotia properties were mandated to shutdown operations, and all non-critical construction activities on the company's Ontario developments were suspended.
Terrance Doyle, the company's interim CEO, explained: "Great Canadian remains committed to help contain the spread of COVID-19 by adhering to all directives and guidance issued by public health authorities in each jurisdiction that we operate, including suspending our operations when mandated to do so. 
"Our ability to respond to local health mandates promptly and efficiently is a testament to the preparation and readiness of our team members. The company remains focused on reopening our gaming properties and ancillary amenities as appropriate, and our teams have demonstrated through our results thus far that we can operate while continuing to prioritize the health and safety of team members and guests.
"We have reason to remain optimistic, despite the challenges we have faced since the start of the pandemic. For our properties that were allowed to reopen, we have observed encouraging visitation levels despite operating under restricted conditions. 
"Additionally, we are encouraged by the continued progress of the mass vaccination program across Canada, as well as the initial results of the wider reopening of other markets where vaccination levels are higher."
Furthermore, the firm also provides an update to its impending buyout after Raptor Acquisition Corp, an affiliate of funds managed by affiliates of Apollo Global Management, gained approval under the Investment Canada Act for the acquisition. Completion is anticipated during Q2 2020.
"Significant progress has been made in the closing of the arrangement with Apollo Funds, as demonstrated by the recent Investment Canada Act approval," added Doyle.
"We believe this transaction is beneficial for our shareholders, our team members, our guests, and other stakeholders, and we are working diligently to satisfy all remaining closing conditions, including required regulatory approvals."