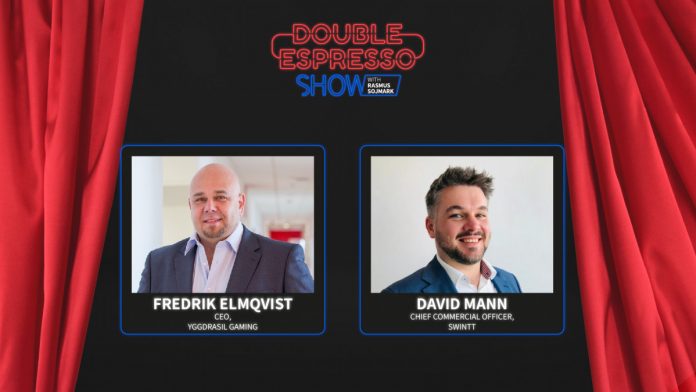 The industry needs to push back against the over-regulation of slots as the laws around gambling are being scrutinised, according to two key game developers.
Speaking on a special edition of the Double Espresso Show with Rasmus Sojmark, Yggdrasil Gaming CEO Fredrik Elmqvist and Swintt CCO David Mann both highlighted the dangers of players moving to black market operators if slots become less entertaining.
The significance of regulatory changes was one of many topics tackled on the show, which will have its premiere later today as part of the CasinoBeats Slots Festival sponsored by Groove Gaming and BetConstruct.
Regulatory changes often create significant challenges for the gambling industry, as companies are forced to adapt their operations according to differing legislative requirements in various territories.
This has been clearly demonstrated in recent months, as the UK government continues with its review of the 2005 Gambling Act, whilst in Germany the Fourth Interstate Treaty on Gambling secured the approval of all required federal states, and in the state of New York many commentators were left visibly confused by updated gambling legislation.
Mann was keen to address the aforementioned regulatory changes in Germany, stating: "On the proposed turnover tax – it is looking like the main discussions are going to have a negative impact on RTP and games, which is just going to turn players towards unregulated sites.
"It's adding risk to the players. There's probably always going to be a couple of brands that are more highly regarded and well considered within the more grey areas. But you want players to have trustworthy experiences, you want them to really connect with the casino." 
Sharing Mann's concerns with regards to the impact of regulations on RTP and player preferences was Fredrick Elmqvist, CEO of Yggdrasil Gaming, who argued that gamers will ultimately lose out the most due to diminished returns.
"We like to believe that there's good balance in giving players a chance to win money – that's good for the players and good for the industry," he remarked. "I actually don't think that the regulator should get involved in even stuff like how the design works and when you can show the coin splash and so forth. I think that it's complete over-regulation. 
"But we haven't seen the rest of it yet. it seems that politicians are driving this and we see that the public space is pushing for some further regulations."
Mann also added that upcoming regulations, particularly in Germany, would have far ranging impacts on game mechanics and the player experience – which would subsequently have consequences for player safety. 
He continued: "From our side, we should always be trying to communicate more with the operators, the players and even with regulators to try and make that more safer for players."
Elmqvist concluded by sharing his belief that regulators are uninterested in being more informed on the potential consequences of over-regulation of the slot space, or the gambling industry in general.
He remarked: "My biggest fear is that the industry will become so over-regulated that players will be willing to take those extra steps and go on a much darker path."
To watch the premiere of the Daily Espresso Show at the CasinoBeats Slots Festival, register for free now here.