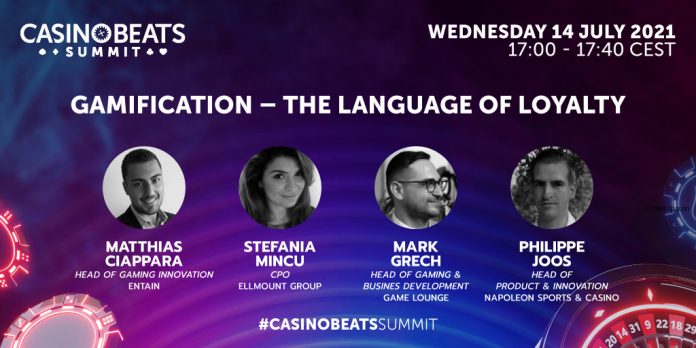 The next generation of gamification ideas and the role they can play in improving player retention will be among the subjects in the spotlight when CasinoBeats Summit takes an in-depth look at product development and innovation in the igaming industry. 
The first major igaming conference and expo of 2021 takes place on 13-15 July 2021 in an innovative integrated live and digital format. Five hundred senior executives will attend the in-person event at the InterContinental in St Julian's, Malta, while a global audience of industry professionals will join a parallel virtual edition, with both groups able to view the content on both the live and online stages. 
As the central theme of CasinoBeats Summit is innovation in the igaming industry, the live stage agenda on 14 July is dedicated to the development and selection of products, with input from the perspectives of operators, games studios and technology suppliers.
One of the key sessions is 'Gamification – The Language of Loyalty', which features a panel that includes Matthias Ciappara (head of gaming innovation, Entain), Stefania Mincu (CPO, Ellmount Group), Mark Grech (head of gaming & business development, Game Lounge), and Philippe Joos (head of product & innovation, Napoleon Sports & Casino).
The experts will share some insights on what gamification can achieve in terms of driving engagement among slots players, and what the next developments might be as operators and developers look for cost-effective retention techniques to rival the popularity of tournaments and leaderboards. 
Another panel that will shed some light on the topic of engagement is 'Video Gaming – The Future of Slots?'. The session will examine the lessons slots developers can learn from their counterparts in the video gaming sector and evaluate whether the way forward is games that have a greater focus on player interaction and skills. 
The day's agenda will also deliver high-level insights on topics such as what operators really want from new slots titles, how to reach a new audience through innovative product design, improving UX, building successful slots franchises, and the future of feature buy-ins. 
Rasmus Sojmark, founder & CEO of event organiser SBC, said: "CasinoBeats Summit is a must-attend event for everyone involved in product development and selection in the igaming industry. 
"The first full day of the conference will give operators, games studios, and platform providers a host of valuable ideas about the next generation of products, including how they can build on proven gamification techniques to develop new and highly-effective player retention strategies."  
The CasinoBeats Summit agenda also includes the Key Markets, New Markets, Leadership, and Marketing & Affiliation tracks, along with the inaugural Game Developer Awards ceremony. 
Delegates at the in-person event can look forward to viewing an exhibition showcasing the latest products from leading games developers and platform suppliers, along with an all-inclusive networking programme that includes evening parties in stylish venues.
Those attending the online edition will have access to a virtual exhibition, complete with product presentations and games showcases, and a series of video-conference networking roundtables.
To find out more about attending CasinoBeats Summit 2021, please visit the event's official website.