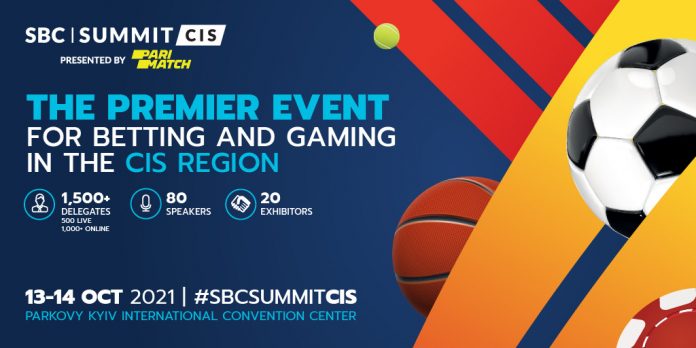 Next week's SBC Summit CIS, Presented by Parimatch, is set to see a line-up of regulators, politicians, operators, and key suppliers share valuable information about the future of the betting and gaming markets across Eastern Europe and the CIS.
A roster of 80 experts will participate in the conference and exhibition at the Parkovy Kyiv International Convention Center on October 13-14, with the speakers chosen to provide perspectives from all the major stakeholder groups in the industry.
The line-up features some key figures in the development of the recently-regulated Ukrainian market, including Oleksiy Kucher (head of the state regulatory service of Ukraine), Ivan Rudyi (chair of the Ukrainian Gambling and Lotteries Regulation Commission), Boris Baum (first deputy chief of the expert advisory council of the Ukrainian Gambling and Lotteries Regulation Commission), and David Arakhamia (head of the ruling Sluga Narodu party faction).
They will be joined by the leadership team of the Ukrainian Gambling Council chair Anton Kuchukhidze, deputy chair for communications Viktoriya Zakrevskaya, and deputy chair for Legal Issues Mykhailo Koval – and the European Gaming and Betting Association's director of legal and regulatory affairs Dr Ekaterina Hartmann.
Delegates can also look forward to in-depth input from the region's leading operators, as they discuss the key issues in markets including Ukraine, Georgia, the Baltic states, and Uzbekistan. Maksym Liashko (co-CEO, Parimatch Tech), Nataliia Hilevych (CEO, Parimatch Ukraine), Irakli Davarashvili (CMO, Adjarabet), Darren Keane (CEO, Storm International), Luka Kapanadze (CCO, Betlive), Artem Skrypnyk (chief delivery officer, Favbet), Serhiy Potapov (CEO, Cosmolot), Taras Shurubor (CEO, Pin-Up), Olga Golikova (head of payments, Parimatch Tech), Ana Gotsiridze (head of HR, Adjarabet), and David Gujabidze (head of product marketing, TotoGaming) are just a few of the senior executives taking part.
Parimatch Tech's head of esports Stepan Shulga will be among those sharing the inside track on the esports sector, while the region's thriving poker market will be examined by Erik Shahbazyan (founder, Ukraine Poker Open), Ruslan Bangert (CEO, PokerMatch International), and Sergii Efimenko (president, Ukrainian Sport Poker Federation).
Attendees interested in establishing a presence in the region will hear from leading legal and business advisors, including Ilya Machavariani (senior partner, 4H Agency), Lasha Machavariani (founder & CEO, Sports Media Holding), Nikola Teofilovic (senior investment manager, JKR Investment Group), Zaza Baramidze (consultant, Random Systems Georgia), Artem Kuzmenko (partner, Eterna Law), and Gedi Gelbakhiani (managing partner, Gelbakhiani Legal Services).
The conference will also see valuable input from marketing experts and some of the gaming and payments technology specialists with products developed for Eastern European markets. They include Nik Rudenko (CEO, TruePartners), Vitaliy Sitovskiy (Co-Founder, Traffic Squad), Daniel Stolberg (Head of Business Strategy, Utorg), Alexandr Iaroshenko (CEO, Betbazar), Alex Kornilov (CEO, Betegy), Gal Ehrlich (CEO, Beter), and Magdalena Podhorska-Okolow (CCO, Authentic Gaming).
Rasmus Sojmark, founder and CEO of SBC, said: "The potential for the industry in nations such as Ukraine, Georgia, and the Baltic states is huge, and we are delighted to present a line-up of speakers who are ideally placed to provide expert insights into how to make the most of those opportunities and succeed in Eastern Europe and the CIS.
"From taxation and regulation to marketing strategies and growing verticals, our speakers will provide the kind of in-depth local market information that is hard to come by, but invaluable to any business that wants to prosper in the region."
Away from the conference rooms, delegates will have the chance to see the latest innovations from 20 suppliers in the exhibition and to enjoy a programme of evening networking events in stylish Kyiv venues.
Book your full event pass at the SBC Summit CIS website.