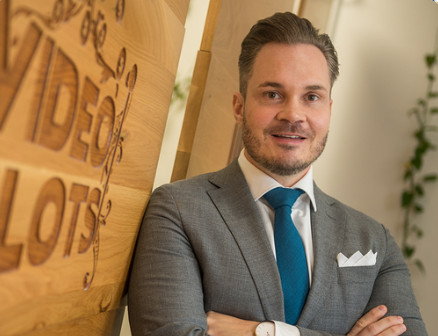 "The fish rots from the head. If we as a management team don't get it right, we can't expect other people in the company to do so either."
Ulle Skottling, deputy chief executive officer at Videoslots, references a favoured quote of his new chief people officer to underline the operator's approach to leadership.
In an interview with CasinoBeats, Skottling said that Videoslots has emerged "bigger and better than ever" from the challenging COVID period by reacting to the here and now, while also looking ahead to what it wants to represent as a company.
He also talks about entering Spain, expansion plans for Mr Vegas – which showed an impressive growth in a short period of time – and the "small matter" of a football World Cup for its proprietary sportsbook.
CasinoBeats: The last 18 months have brought about a number of significant changes for the gaming industry. How has Videoslots managed during this period?
Ulle Skottling: It has been a challenging period for everybody, but I'm happy to say Videoslots has emerged bigger and better than ever. We have grown significantly in our core markets, launched in Italy and we're about to launch in Spain. We've also debuted our own sportsbook and new casino brand Mr Vegas. The latter in particular began performing very well very quickly. 
At a less visible level, we have managed to maintain productivity as a team despite the restrictions placed upon us by the pandemic. We were and remain very conscious of the changes made on the lives of the 250 people we employ at Videoslots. Working from home has many advantages, but it can be disruptive too and we moved quickly to make sure people were getting the breaks they needed and weren't spending every hour of the day thinking about work.
"It is very easy when you're working remotely to sit back and look at the numbers and forget about the people"
Without wishing to sound complacent, I think we achieved that and hopefully what we've managed to roll out as a company is a good demonstration.
CB: What have been the biggest changes at Videoslots since the pandemic began and how has the company as a whole evolved in the face of these changes?
US: The most obvious change was the inability to meet up and engage with colleagues in person. As good as video calls can be, you can never recreate that human interaction. Bonding and promoting company culture is not easy either, particularly when you are onboarding new people. I'm aware that some companies saw the pandemic as an opportunity to cut costs.
We took the opposite decision and decided early on that we wanted to make sure our employees were not disadvantaged by having to work from home. We made sure they had the right equipment and similar working conditions to what they were used to in the office.
We also invested in the office itself, creating a fantastic new space where we're now able to offer our employees free breakfast and lunch each day. We reacted in the here and now, yet also looked ahead to what we wanted to represent as a company – and we have received excellent feedback from our employees.
CB: On a personal level, in what ways have you had to adapt your leadership style to keep the sense of company culture while everyone has been working from home?
US: It is very easy when you're working remotely to sit back and look at the numbers and forget about the people behind those numbers. You have to be disciplined about making sure you make time to talk to people and listen to their opinions and suggestions, as well as sharing your own.
The bottom line is you need to try harder, otherwise you risk people becoming disengaged or isolated by the circumstances they find themselves in. We've all found ourselves in the situation where we haven't got back to emails or messages for a while because we've been on back-to-back calls, but the time invested in the people on those calls is hugely beneficial. I've always tried to make time to listen and explain, but I redoubled my efforts during the pandemic.
"Spain will become a market for us any day now"
CB: Will this leadership style change again now that people are starting to return to the office?
US: I don't think so. It has always been important to talk the talk and walk the walk, and I think if the pandemic has taught us anything it is that we need greater transparency and communication. Anne Muscat Scerri recently joined us as chief people officer. Anne has experience of working with building company culture based on strong values.
We want to make sure that we are not only offering the best working environment but also the best employee benefits within our industry. We know that employees today look for solid and honest work environments based on trust and respect. Malta can be a tough employment market for an employer like us as people have options. We talk about retention of customers in casino, but retention of valuable employees is just as important.
And we as a management team need to keep them engaged, empowered and entertained in equal measure. HR and leadership around HR is more important than ever. The Maltese have a phrase, which Anne likes to quote, that the fish rots from the head. If we as a management team don't get it right, we can't expect other people in the company to do so either.
CB: Looking forward to 2022 and beyond, can you give us a sneak peak of any new developments / products that you have in the pipeline?
US: As I've hinted earlier, Spain will become a market for us any day now. We very much want to maximise our opportunities there and in Italy. There is so much scope to expand Mr Vegas too. We have big plans to give it an exciting new design, which we didn't quite have time for when we launched. It is performing very well already, but the new look will give it an extra push.
There's also the small matter of a football World Cup next year, so I'm sure that will give renewed impetus to our proprietary sportsbook. We're excited about its growth potential.
Lastly, those readers with longer memories may remember we bought the assets for poker company PKR some time ago. We are hoping to be able to unveil some exciting developments with that later in the year. Watch this space, as they say.
"People don't take a new job or leave their existing job purely for salary reasons"
CB: What are your key goals for Videoslots over the next 12 months?
US: We need to upgrade our vision and mission as a company because the growth we have experienced in the last 12 months, not to mention the growth we expect in the next 12 months, has really changed our horizons. There are lots of exciting opportunities in different markets and with different products and we need to make sure we have a coherent plan to make the most of them.
With those opportunities come challenges, with changes in regulation being an obvious one. In some cases that will be markets opening up, in others it will be markets changing what we are able to do as an operator. Needless to say, compliance is a big focus for us, but so too is having the technical and commercial teams to cope with our expansion.
CB: How do you ensure that you are an attractive employer within the igaming industry?
US: We're very proud of our offices and excited by the additional plans for the building. We think that will continue to prove to be an attraction. Yet, from a company culture point of view, we are very aware that employees follow their leaders. Our leadership needs to be on point at all times, as a result.
We're very proud of our employees old and new, but they need to feel they are safe and seen, whether that's in the office or working from home, and that they can grow within the company. 20 per cent of our new appointments are internal promotions, something we take great pride in. We want our employees to feel that they can grow and develop a successful career at Videoslots.
No job is just about the money. People don't take a new job or leave their existing job purely for salary reasons. They need to see there is a strong company culture that values them as individuals within the team. If we can keep that front and centre, I think we can achieve our goals.