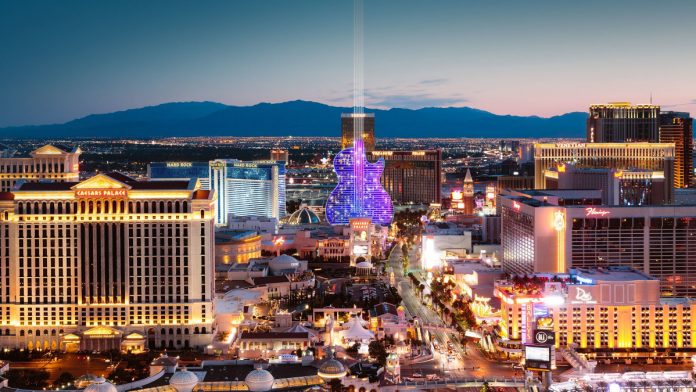 MGM Resorts International, in connection with real estate investment trust Vici Properties, has rolled-out an agreement to sell the operations of The Mirage Hotel & Casino to Hard Rock International for $1.075bn in cash.
As a result of the acquisition, which is expected to close in the second half of 2022, subject to regulatory approvals and other customary closing conditions, Hard Rock plans to build a guitar-shaped hotel on the Las Vegas Strip.
Prior to 2020, HRI had no previous involvement with the Hard Rock Hotel & Casino brand in the Nevadan city.
However, the group purchased the licensing and naming rights for Hard Rock Hotel & Casino Las Vegas in May 2020, and vowed to utilise it as outlined above when the right opportunity presented itself.
"We are honoured to welcome The Mirage's 3,500 team members to the Hard Rock family," said Jim Allen, chair of Hard Rock.
"When complete, Hard Rock Las Vegas will be a fully integrated resort welcoming meetings, groups, tourists and casino guests from around the world to its nearly 80 acre centre-Strip location."
Under the terms of the agreement, MGM Resorts will retain The Mirage name and brand, after licensing it to Hard Rock royalty-free for a maximum period of three years while it finalises its plans to rebrand the property.
"This transaction is a significant milestone for MGM Resorts, and for Las Vegas," said Bill Hornbuckle, CEO & President of MGM.
"As part of the team that opened The Mirage in 1989, I know firsthand how special it is, and what a great opportunity it presents to the Hard Rock team.
"I want to thank all of our Mirage employees who have consistently delivered world-class gaming and entertainment experiences to our guests for more than three decades."
Moreover, Mirage will have initial annual base rent of $90m, the amount which its MGM deal will be reduced, including a base term of 25-years with three 10-year tenant renewal options, escalation of two per cent per annum, and minimum capital expenditure requirements of one per cent of annual net revenue.
Additionally, subject to certain conditions, VIci may fund an up to $1.5bn redevelopment plan of the Mirage through its partner property growth fund.
Specific terms of the redevelopment and related funding remain under discussion and subject to final documentation between the two parties.
John Payne, president and CEO of Vici Properties, said, "We are thrilled to continue to help our tenants achieve mutually beneficial objectives.
"By working collaboratively with MGM Resorts to sell the Mirage operations we are able to grow our pre-existing partnership with Hard Rock as they expand their gaming operations onto the Las Vegas strip, the most economically productive street in America."