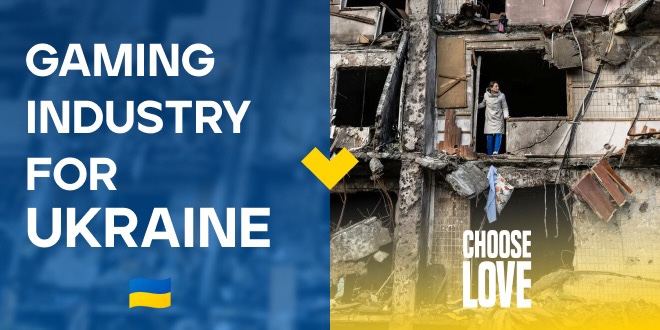 The gambling industry's charity appeal to raise funds for Ukrainians displaced by the Russian military action has reached its target of £250,000, but organisers are calling for one last push until the end of the month.
As so many generous individual and corporate donors from across the gaming sector have stepped up to support the campaign, organisers have decided to keep the GoFundMe campaign running until April, to give even more people the chance to support the Gaming Industry for Ukraine initiative.
The campaign is providing funding to Choose Love, as the registered charity has the ability and infrastructure to target these donations quickly to a range of NGOs on the ground supporting purely humanitarian efforts.
Some of the campaign's biggest donations came from well-known names in the industry like Betsson (which alone donated £50,000), Spribe OU, Oryx Gaming, Games Global, Microgaming, Funfair Games, Fast Track, FSB, Vixio, Enteractive, OLBG, SBC, Clarion, Just for the Win and Better Collective.
But organisers would like to stress how appreciative they are of all the many individuals who have generously donated, and the four and five figure sums given entirely anonymously. Among those who have supported that campaign include Thomas Eaves, Jonas Ornstein, Lasha Machavariani, Alexandre Tomic, Michael Tobin, Henrik Fagerlund, John Coleman and Enda Gaffney.
The campaign will continue to provide donors with Choose Love's updates through LinkedIn and other social channels over the coming weeks.
One of the people behind the campaign Rasmus Sojmark, CEO and Founder of SBC, commented: "When we started this fundraising effort, I'm not sure we believed we would hit the target of £250,000. But the kindness and compassion of the gaming industry meant we surpassed that amount in just two weeks!
"Now we are kicking on and hoping to raise even more to help Choose Love's humanitarian efforts for the people of Ukraine."
Co-organiser Shona ODonnell, Head of Strategic Events at Better Collective, added: "I've always been proud to be a member of the gaming community and never more so after seeing how they have got behind this campaign to send aid to Ukraine.
"It's been overwhelming to see the support from all sectors of the industry, both at a personal and company level."
Choose Love is in the process of granting aid to 23 organisations providing vital support in and around Ukraine. Since the campaign has begun, it has committed $1.4m to humanitarian organisations, including money raised from this gaming industry campaign.
Donations made so far include:
* $175,000 for trucks and fuel (via Caritas) – Caritas Austria has been funded to take aid to Caritas Ukraine.
* $30,000 for LGBT+ Ukrainians (via Insight) – legal support, evacuation assistance and accommodation.
* $50,000 medical supplies (via Humanitas) – taking supplies from Romania to Ukraine.
* $30,000 transport supplies (via Integra) – a Slovakian NGO with a network of teams and partners in the area.
Many companies will have unused stock from planned promotional activities over the past couple of years for events that didn't happen and this stock can provide a massive boost for refugees who have left behind all their possessions. Companies wishing to donate this superfluous stock should contact [email protected].
To make a donation to the Gaming Industry for Ukraine campaign click HERE.