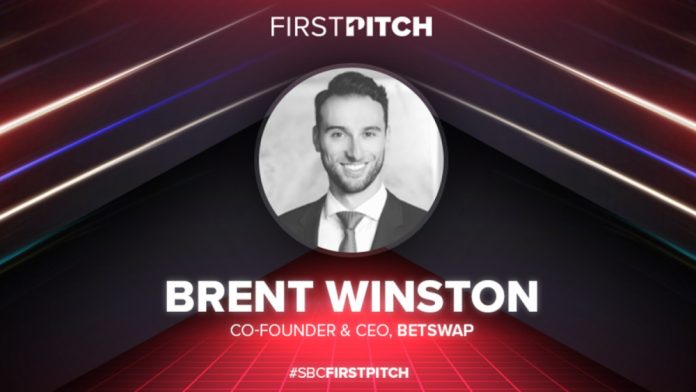 While Brent Winston, Co-Founder and CEO of BetSwap, emphasised the strength of the firm's product, he stated that it is "not always enough" in a pitch.
Coming off the back of his experience at SBC Summit North America, and winning the SBC First Pitch competition in July, Winston noted that participants must know their audience and "find a way to sell and engage them".
Five start-ups had the opportunity to pitch their business plans to a panel of judges with expertise in venture capital investments within the industry on the final day of the leading sports betting and igaming event in North America.
BetSwap was awarded the top prize of the SBC First Pitch competition, securing a prize package valued at more than $60,000 to help its development and growth plans.
Delving into why BetSwap decided to get involved with the competition, Winston stated that he was not planning on entering until one of its advisors – Benjie Cherniak – suggested it.
He said: "Those who know Benjie are aware that he's typically got pretty good advice and is right more often than not. I sent in the application and was fortunate to be selected as one of the five finalists.
"Winning First Pitch was a fantastic feeling. There was some great competition – for BetSwap to be selected as the winner by such an esteemed panel of judges is humbling and validating."
Revealing his love for sports, and embracing the Canadian stereotype of Hockey being his favourite – where he also dons the goalkeeper attire, Winston noted it was his passion for watching sports and betting on events which led to the birth of BetSwap.
"Every Sunday during the fall and winter, I spend time on the couch with my brothers, watching and betting on football," explained the firm's CEO. "We typically put together eight to 10 game parlays for the NFL games and hit one or two every season.
"While I think we have a strong product, that's not always enough in a pitch"
"Often, we'll have one leg in the parlay miss, and as a result, we'll lose the bet. Most of the time, the bets were not provided with a cash out offer.
"In the instance cashout was available, we knew there was a decent premium we were paying, and cashout would only be available for a short time before the lines of the underlying event(s) changed.
"As a result, I wanted to find a way to create a better user experience and create liquidity for the user's parlays and future bets."
Addressing what "problem" BetSwap identified and how the product solved it, Winston stated that it allows users to determine when they sell their bet and for how much they sell it.
"Currently, bettors can only create liquidity by winning their bet or cashing out — and cash out is always on the sportsbook's terms.
"Simply put, the buyers who use the BetSwap functionality can gain access to bets with odds no longer available on their sportsbooks."
Questioned on what he thought provided the company the edge over the other start-ups competing at SBC First Pitch, Winston expressed that it "may have just been determination", stating BetSwap "commit with 110 per cent effort".
He added: "As cliche as it sounds, it's true. I was the same way growing up playing sports. If I'm going to compete, I'm going to compete with everything I've got.
"While I think we have a strong product, that's not always enough in a pitch. You must know your audience and find a way to sell and engage them."
"I found that if I couldn't convey our core value proposition in three minutes, I likely wasn't going to win"
Winston also revealed that all marketing and design packages that were donated by SBC and VegasKings will be "really helpful" for aligning its brand's marketing and launching its name, as well as gaining professional resources to operate successfully in the space for years to come.
Looking to September, SBC Summit Barcelona will host its inaugural First Pitch competition. Ahead of its first inception at the event, Winston stressed that any start-up entering should practice!
He concluded: "Everyone knows their product backwards and forwards, but it's a different story when you're trying to pitch your product in just three minutes.
"I found that if I couldn't convey our core value proposition in three minutes, I likely wasn't going to win. The whole purpose of the time limit is to showcase to the judges how well you know your product and how simple your product is.
"In order to make sure you can convey your company's value proposition in the allotted time, you have to draft a clean and crisp script and practice that script over and over and over again until you know it like the back of your hand.
"Also, don't forget that this is still a presentation-based competition. You need to captivate your audience and the judging panel. Your presentation skills definitely factor into the decision-making process. Practice makes perfect!"
iGaming Innovation is to form one key aspect of this year's SBC Summit Barcelona 2022, which takes place at Fira Barcelona Montjuïc on 20-22 September.
This will see 6,000 delegates enjoy a 12-track conference covering all aspects of the international sports betting and online casino industries, an exhibition with 200 companies showcasing their latest innovations, and a programme of spectacular evening networking events.
Visit the SBC Summit Barcelona website to book your all access or discounted group pass.