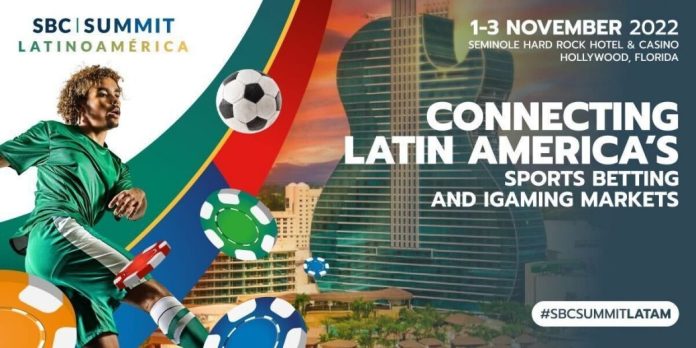 SBC Summit Latinoamérica 2022 gathered over 1,000 senior industry executives at the Seminole Hard Rock Hotel & Casino, Hollywood, Florida, to discuss business opportunities and the immense potential of the region.
The event on November 1-3 featured a trade show with over 40 booths, a busy program of evening network parties and high-level conference content delivered by more than 120 industry heavyweights.
Rasmus Sojmark, CEO and Founder of SBC, said: "This was our final Summit for 2022, and the year could not have ended on a more positive note.
"SBC Summit Latinoamérica proved to be a fantastic opportunity for all the exhibitors, sponsors, speakers and attendees to showcase their products and hold fruitful in-person discussions about the future of this industry in the region. 
"I would like to thank everyone involved for making this Miami experience special with their enthusiasm, professionalism and positive attitude."
Apart from the panel and roundtable discussions featuring leading industry experts, attendees also had the chance to sit in on a keynote speech delivered by the legendary sports journalist and Futbol Sites and Playmaker ambassador Juan Pablo Varsky and hear from leading regional sports clubs and organisations.
The event visitors also experienced the once-in-a-lifetime opportunity to measure their baseball skills, by testing their pitching speed in the bullpen, swinging a bat in the batting cage, and taking part in a Wiffle ball home run derby in the outfield at LoanDepot Park, home of the Miami Marlins Major League Baseball team
Cristian Robalino, Vice President of Marketing in the Americas at SBC, added: "The timing for SBC Summit Latinoamérica was perfect — with all eyes on the region, the elections in Brazil, and the Qatar World Cup less than a month away, we all got the chance to witness a lively exhibition floor and engage in insightful and eye-opening conversations that helped us understand the true challenges and opportunities in this beautiful region.
"We are extremely proud of all the work we've done for this event and humbled by the positive feedback we've received from the attending operators, affiliates and suppliers."
Etna Rueda, COO of Big Bola, noted: "Participating in SBC Summit Latinoamérica has been a rewarding experience in every sense of the word, not only because of the quality of speakers and the covered topics but also because of the brand exposure opportunities and the relevant industry visitors. SBC Summit Latinoamérica facilitates business networking."
The event was enriched by the SBC Awards Latinoamérica ceremony presented by the Mexican journalist Inés Sainz and Juan Pablo Varsky. The lavish occasion at the Seminole Hard Rock Hotel & Casino hosted over 400 guests and celebrated the industry's achievements across all the major disciplines.
Following the success of the 2022 events, SBC Summit Latinoamérica will return to the Seminole Hard Rock Hotel and Casino in Hollywood, Florida on October 31 – November 2, 2023. Contact [email protected] for information about exhibition and sponsorship opportunities.