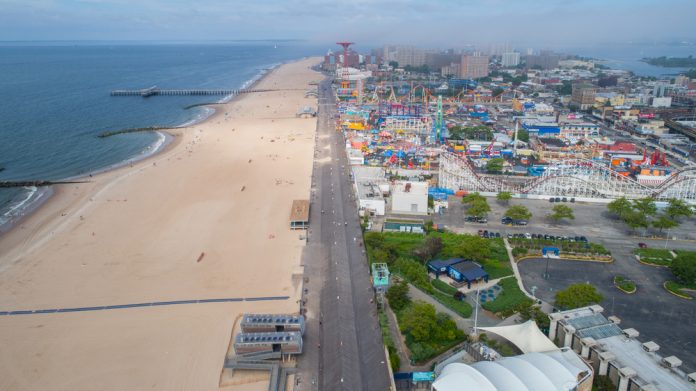 Saratoga Casino Holdings and the Chickasaw Nation have joined Thor Equities' prospective project that is aimed at transforming Coney Island via the development of a casino, hotel, and entertainment facility.
The trifecta vow that, if approved, an "economic boon" would be felt that would create numerous career opportunities and "fulfil promises made … more urgent by COVID".
This investment of more than $3bn, which will be completely made up of private, not taxpayer, funds, would create 2,500 construction jobs as well as "thousands of permanent ones".
This alliance hopes to capitalise on the impending issuance of a trifecta of downstate casino licences, which has seen a number of interested parties declare an interest in aiming to capitalise on the opportunity.
Randy Peers, President & CEO of the Brooklyn Chamber of Commerce, said: "This project will finally stimulate our local economy in a way that turns Coney Island into a year-round destination. 
"Most importantly, it will create all-year full-time employment for our local residents who can grow their career and serve the community they grew up."
The Saratoga, Chickasaw Nation, and Thor Equities big is hoped to transform the Coney Island economy, with hopes held to ensure that the region is longer singularly dependent on summertime amusement park visitors.
"We currently enjoy an excellent strategic partnership with Legends at our flagship property WinStar World Casino and Resort," noted Global Gaming Board Chair Bill Lance.
"Our investment and involvement in this project reflects a desire to expand that relationship and extend it to additional strategic partners in Thor and Saratoga.
"We look forward to a successful collaboration based on our combined strengths and perhaps most importantly – our shared commitment to develop a top-tier entertainment venue that promises to respect the history of the neighbourhood and breathe new life into this iconic New York city landmark. We look forward to taking our partnership with Legends – a known and trusted entity in New York – to even greater heights."
Saratoga Casino Holdings operates 175,000 square feet of casino gaming space with more than 2,100 slot machines, table games, a poker room and two sportsbooks, plus several entertainment venues, restaurants, nightclubs, and bars.
The group has made more than $1.2bn in contributions to the New York State Education Fund, which it says is approximately 48 per cent of its gaming revenue.
"My family has done business in New York for generations, including opening the first non-tribal casino in 2004 which has contributed over $1.2bn to New York State education," said Sam Gerrity, CEO of Saratoga Casino Holdings. 
"We are thrilled to be partnering with Thor Equities Group and Global Gaming Solutions, two world class organisations, to bring a community friendly gaming and entertainment venue to Coney Island."