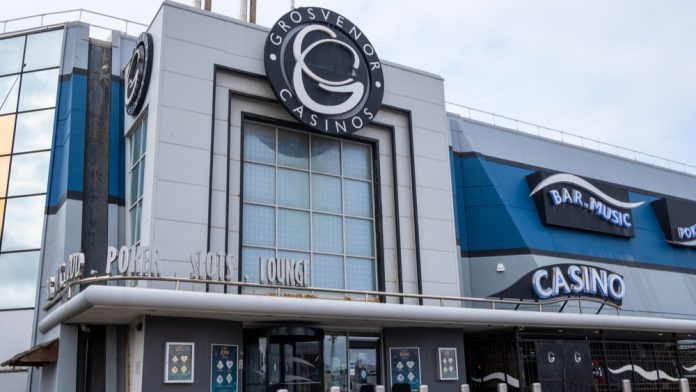 A challenging macroeconomic backdrop, which is particularly affecting Grosvenor casinos, has been detailed as Rank Group enthusiasm at a maintained uptick after the fiscal year's Q1 has somewhat dampened. 
Reporting a performance review for the five months ending November 30, 2022, group like-for-like NGR is one per cent up year-on-year, with Mecca, Enracha and digital offset by falling figures across UK casino venues.
Despite acknowledging "some improvement" in Grosvenor trading during recent weeks, Q2 levels have been reported as "weaker than expected". Weekly average NGR of £5.8m is said to be "only marginally ahead of the levels seen in Q1".
Driven by lower customer spend per visit, an expected continued improvement through Q2 and into the second half of the year has not materialised for the company.
Visitor numbers at Mecca were four per cent up YoY and in line with Q1, however a "recent weakening" is put down to the men's football World Cup, colder weather and cost of living pressures.
In Spain, the group's Enracha venues are said to have "continued to perform strongly," with NGR up 27 per cent as investments into electronic products are reported as continuing to deliver strong returns.
Elsewhere, digital NGR is up 11 per cent, with a 10 per cent UK uptick aligned to the successful migration of Grosvenor onto the group's proprietary technology platform, with a 13 per cent international rise put down to the continued growth in YoBingo and launch of YoSports in October 2022.
John O'Reilly, Chief Executive of Rank, said: "Weak consumer confidence and pressure on disposable income is resulting in a tougher than expected trading environment for our UK venues businesses, particularly in Grosvenor where we are seeing customers spending less per visit.
"Whilst we expect these challenges to continue to impact our recovery into the second half of the financial year, we have implemented a series of measures to deliver incremental cost savings and to drive revenues."
Providing an outlook for the period that lies ahead, Rank conceded that the return to growth of Grosvenor will "take longer than previously expected due to the current challenging macroeconomic backdrop".
Enracha is expected to continue to perform strongly with "Spanish customers being less impacted by cost of living pressures," while a financial squeeze in the UK is also putting pressure on the full-year Mecca showing.
Elsewhere, the digital business continues to focus on delivering its roadmap of enhancements centred around providing a heightened live casino gaming experience and a more personalised and engaging online bingo offer.
Total known cost increases for the year remain broadly in line with group expectations at approximately £50m driven by wage inflation, energy inflation, other price increases and COVID-19 related government support received in FY22.
Subsequently Rank expected group LFL underlying operating profit for the year ending June 30, 2023, to be in the range of £10m to £20m, with the main variable being the performance of Grosvenor venues.  
Due to the high operating leverage within Grosvenor, and its importance to the group as a whole, Rank noted that movements in its NGR will have "a significant impact" on operating profit for the year.
"We remain committed to our roadmap of investing in initiatives that will ensure the long-term recovery and prosperity of the group," added O'Reilly.
"These include delivering new products in our UK venues, enhancements to the design and facilities of some of our casinos and upgrades to the table gaming and electronic offering.
"Our digital team is now fully focused on delivering the improvements available to our UK and Spanish business following the successful migration of all our brands onto our proprietary platforms."