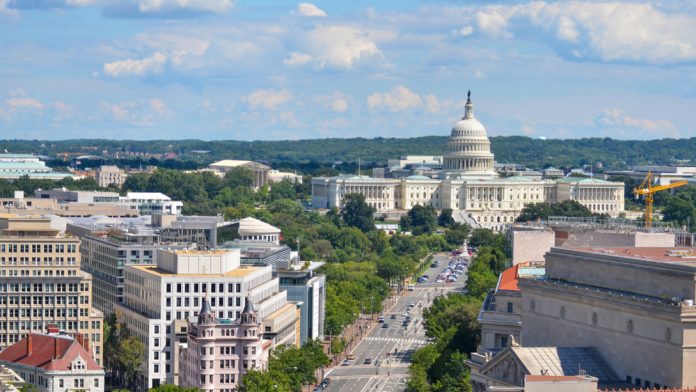 Elys Game Technology has entered a joint venture with Cloakbook to open a Washington DC sportsbook, which has received an official grant by the District of Columbia's Office of Lottery and Gaming.
Upon the receival of a Standard Class B Joint Venture Sports Wagering Operator Licence, the sportsbook is set for a soft launch ahead of the profitable New Year's Eve sports weekend. The first wagers are planned for the Cloakroom Gentlemen's Club DC and the Over Under rooftop lounge on December 29, 2022.
"We are delighted to have been granted the first joint venture licence with our partners at Cloakbook to commence sports wagering services within the Cloakroom Gentlemen's Club and the Over Under rooftop lounge, our second small business sportsbook installation in Washington DC," stated Michele Ciavarella, Executive Chairman of Elys Game Technology.
"Elys firmly believes that this segment of retail sports betting within neighbourhood establishments could become a key driver for local employment and economic recovery at the community level throughout the US and Canada.
"This retail distribution model offers an alternative to mobile betting that has not commonly existed in the US other than very limited access in a few grandfathered states prior to the repeal of PASPA in 2018.
"We are very grateful for the patience and determination of our partners at Cloakbook and the detailed oversight of the Department of Small and Local Business Development and DCOLG, and along with our experiences at Grand Central Restaurant and Sportsbook that helped us identify areas of improvement needed to maintain compliance, public safety and provide an effective end-to-end sportsbook solution for our small business partners.
"We look forward to scaling our U.S. expansion through ongoing collaborations with these partnerships to foster the viable and long-lasting economic advancement of the small and local business community."
This Cloakbook establishment will usher in a new licensing framework developed by Elys, Cloakroom, the DSLDB and the DCOLG to set a precedent model for other jurisdictions to follow suit and create sportsbooks of their own.
Elys is hoping to play 'a key role in the community business ecosystem' by hosting bi-annual seminars on the process of receiving licences for sports wagering and dedicating a section of their website to list subcontracting opportunities for DC Certified business entities related to management of sportsbooks.
"We are eagerly looking forward to commencing our sportsbook operations within the Cloakroom and all-new Over Under lounge on the rooftop above the club, and to provide a whole new experience to our patrons in DC," stated Tony Cavasilios, Managing Member of Cloakbook.
"This new venture has given us the opportunity to create 15 new jobs in DC and offer customers a chance to parlay an evening of enjoying a meal and beverage in the Over Under lounge while wagering on their favourite team, and to top it off with a celebration within the award-winning Cloakroom Gentlemen's Club.
"After a long process that started for us almost two years ago, we have gained a deep respect for the compliance framework of installing the sportsbook and the importance of working closely with regulators to provide not only a great product but also a safe environment for our customers to play their wagers.
"The Elys installation and technology teams were simply outstanding and walked us through the arduous process step-by-step, helping us to navigate the challenges of setting up this comprehensive sportsbook within our business establishment and we are thrilled to provide this ancillary service for our well-established patron relationships."