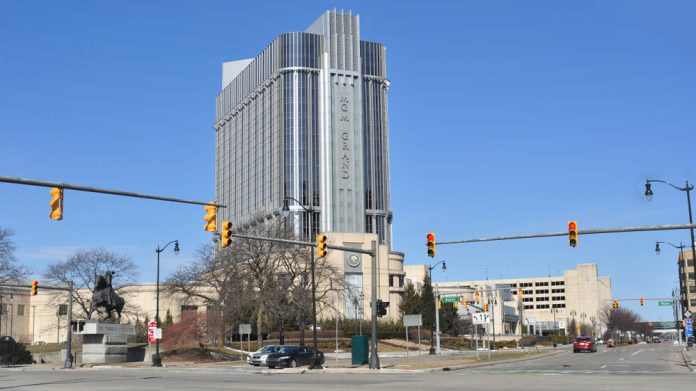 A December revenue downfall has compounded Michigan's retail gambling ecosystem to an overall yearly decline, as reported by the state's Gaming Control Board.
The region's latest financial performance shows that the final month of the past year saw revenue drop 2.36 per cent to $109.9m (December 2021: $112.5m), with the full-year figure closing at $1.27bn, down 1.41 per cent from 2021's $1.29bn.
Breaking this figure down, December's table games and slots revenue came in at $108.3m, which is a decline of 2.8 per cent year on year but up 7.75 per cent from the $111.4m and $99.9m reported one month and one year earlier, respectively. Retail sports betting produced $1.6m (2021: $1.1m).
For the entire year, slots generate 77 per cent of revenue with $983.7m (2021: $998.8m), table games came in at $273.3m (2021: $268m) for 21 per cent and retail sports betting occupied the remaining two percentage points with $18.8m (2021: $26.95m).
In keeping with recent trends, it is MGM Grand Detroit that came out on top when it comes to slots and table games, with revenue rising 8.3 per cent to $600m (2021: $554m), to bring a total market share of 48 per cent for the year.
MotorCity Casino declined 9.5 per cent to $396.5m (2021: $438.3m) that brought a 31 per cent share, while Hollywood Casino at Greektown dropped 5.1 per cent to $260.5m (2021: $274.5m) for a 21 per cent slice.
Year-on-year gaming revenue for slots and table games slightly declined by 0.8 per cent to $1.26bn (2021: $1.27bn).
During October, the three casinos paid $101.8m in gaming taxes to the state, compared with $102.5m one year earlier. The trio also submitted $155.6m (2021: $160.8m) in wagering taxes and development agreement payments to the city of Detroit during the month.
On the retail sports betting front, qualified adjusted gross receipts for the year declined 30.2 per cent YoY to $18.81m (2021: $26.95m).
MGM once again led the way with QAGR of $6.21m (2021: $8.79m), followed by MotorCity's $5.55m (2021: $8.69m) and Hollywood Casino's $7.05m (2021: $9.47m). 
Taxes paid to the state was $711,087 compared with $1m paid during the past year, while $869,107 (2021: $1.2m) was submitted in wagering taxes and development agreement payments to Detroit.