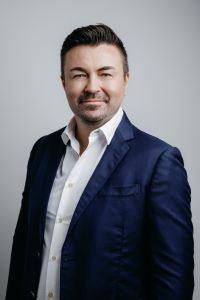 We've all heard of the traditional jackpot campaign. Usually, players hedge their bets on a slot in a bid to win a large cash sum. But while jackpots have long been a mainstay in casino portfolios, is there room for innovation within this space?
Enter Relax Gaming's Dream Drop Jackpots.
Launched in Q2 last year, Dream Drop comprises of five interconnected progressive global jackpots that offer players the chance to win rapid, midi, maxi, major and mega wins.
As we celebrate the one-year mark since Dream Drop Jackpots was launched, CasinoBeats sat down with Daniel Eskola, Head of Research and Development at Relax Gaming, to discuss the journey the product has taken over the last 12 months – including the milestone of eight millionaires.
Eskola began the discussion by highlighting that the mechanic is, by no means, the only jackpot product available on the market. However, he was confident in his assertion that they are 'going for gold'.
He said: "When creating Dream Drop Jackpots, we took a good look at what was on the market, looking for gaps and flaws in the jackpot products that fill the space – some of which have been around for more than 10 years. We wanted to work out how we could innovate and push the boundaries of the vertical.
"We analysed the best products on the market to work out what had the potential to fly. Given that there are already quite a few innovative products around, we needed to create something that really penetrates the market and truly captures the attention of both operators and players."
Launching a jackpot product in a market that is already quite saturated is no easy feat. How do you make your product stand out from the crowd? How do you offer something new to players?
Eskola and his team noticed that the existing products were offering players somewhat of a 'blind' experience – players were not aware of when a jackpot would be close to dropping resulting in a lacklustre experience contrary to Relax Gaming's trademark thrill factor.
"With most jackpots on the market today, players don't know when they're going to drop. It might be the same day, a week later, or even in a year's time, which makes the reward feel unattainable," Eskola continued.
"This was one of the key things that we wanted to change – we wanted to make sure that when players are playing our games, they are confident that someone is going to win the jackpot sometime soon. That fact alone takes the gameplay experience to exhilarating heights and injects the excitement we felt competing products were lacking.''
Knowing a jackpot is about to drop is one way to engage with players. However, one of the problems that Relax Gaming also identified is the re-seed level of jackpot products that are currently available to players.
To set Dream Drop apart from the competition, Eskola explained that Relax Gaming wanted to buck the trend of low re-seeds and guarantee that its jackpot product re-seeds at an industry-first 60 per cent. 
The reason for this, he added, is to keep players engaged and create a more exciting gameplay experience.
Eskola said: "Another issue we found with the jackpots currently on the market was that they fall out at very high rates, but then reseed at very low levels. This creates an anti-climax and very long build-up period, losing momentum amongst players.
"For Dream Drop Jackpots, there is a must-win factor, through which players are guaranteed that the jackpot will hit a certain level combined with the fact that it will reseed at the highest market level – 60 per cent afterwards. From a player's perspective, this means it's always interesting to play the jackpot. We avoid long stints of jackpot build-up and ensure that winners are made frequently to keep the pot bubbling. 
"We want to make sure that players always enjoy playing our games and having that high frequency, high reward element really gets hearts racing."
Jackpots can be a great way to engage with players. But from an operator's perspective, progressive jackpots such as Dream Drop Jackpots can act as a useful CRM tool to pique the interest of dormant players.
"Dream Drop is a highly marketable product, each time the jackpot reaches Super Hot mode, signifying that it's ready to drop, it presents new opportunities for operators to re-engage their players. Showing that the jackpot is about to tip, and letting the player know how much they could potentially win, is a powerful call to action that operators can harness.
"They can reactivate large portions of their player base which they have already invested large sums of marketing funds to acquire in the first place. That's what the operator wants, and if we can help achieve that with our entertaining products, it's a win-win in the long run."
Relax Gaming has also placed significant focus upon fine-tuning the Dream Drop product, including a swathe of regular content additions as well as higher profit margins with no premium costs.
Not only does this benefit operators from a financial perspective, but from a player angle it ultimately creates a fresh and entertaining gaming experience. You could almost say that they have "hit the jackpot".
The Head of Research and Development said: "We tried to finetune the product to make sure that it has higher margins so that it's not only players who are getting higher payouts from the product. Our lack of handling fees means that operators get a bigger slice of the pie when compared to other jackpots on the market. The combination of those two elements presents a very powerful proposition.
"We're trying to create a threshold, so the product itself compared with innovative content is ultimately more engaging."
Talks soon turned towards the product's one-year milestone, and according to Eskola, Relax Gaming has some big plans in the pipeline to mark the occasion.
As is tradition in the gaming industry, we can expect to see a party to mark the milestone. However, Eskola added that there is a raft of new content that will be released – including a cross-over with one of Relax Gaming's flagship titles.
"To mark our first anniversary, we're throwing a big celebration alongside our operator partners in Malta. We wanted to show our appreciation for all of the support we have received from our partners," he commented.
"Money Train Origins Dream Drop hits casinos in June, a perfect way to kickstart the product's second year with a bang.
"With Money Train entering the Dream Drop series, we have reinvented some aspects of the game with the addition of new features. We're also adding tournaments and cash drop promotions, which will not only create a new experience for players but will help operators to push the product too."
With less than two months (on average) between each Mega drop, Eskola is confident that the product will continue making frequent millionaires: "I don't think there are any other products on the market that have made that many millionaires in their first year of operation! That, in itself, is a huge highlight for me and the Relax Gaming team.
"Knowing that eight people around the world have experienced this amazing, life-changing moment while enjoying one of our games is truly rewarding!
"In the first 11 months, we have also had over 100 major winners, where players won just shy of €50,000 – a significant addition to anybody's bank account – it's great that Relax Gaming can be a part of these positive experiences."
Relax Gaming has big plans to build upon the successes of the last 12 months when taking the jackpot forward.
In the coming months, Eskola hinted that technical optimisation of the product will be underway, based on feedback from their internal team, operators, and players with hopes of making "one millionaire each month".
He concluded: "Originally, Dream Drop levelled up by €500,000 after every second win. However, with such a steep increase of players and growth trajectory, the jackpot pools will soon start getting heavier but making fewer winners. This goes against our ambitions of being the most frequently dropping big-ticket jackpot on the market, so we've worked on a solution that will keep jackpots heavy and millionaire-payouts pumping, with no alteration to operator contributions!
"This involves capping the Mega pools at a whopping €3m, while players will also have an even better reseed guarantee to look forward to; boasting the industry's highest ever percentage – 75 per cent.
Dream Drop Jackpots is only 12 months old, and we're competing against products that are in different stages of their life cycles. Over the next 12 months, we are going to be solidifying the product as one of the absolute best jackpots around, with on-going marketing opportunities for our operators, promotions for our players, and more life-changing experiences to be had."