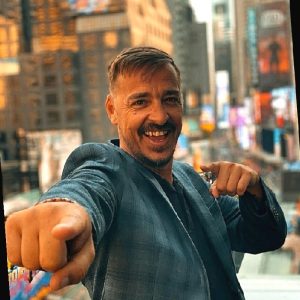 It's been just over a week since Rob Ripley joined the Bad Hombre Gaming team as Head of Sales, Business Development and Commercials. Since joining the team, he is confident that the bespoke platform provider will continue to build upon successes of 2023 with a raft of new partnerships already in the pipeline.
Chatting with CasinoBeats, Ripley began the conversation by telling us about his previous roles within the gambling industry and how this experience will shape his strategy at Bad Hombre Gaming.
He dives into the importance of carving out a 'niche' within the igaming space and the trends that we will see across the crypto casino domain.
CasinoBeats: Firstly, congratulations on your new role at Bad Hombre Gaming! Can you begin by telling us a bit about your background in the gaming sector – how did you become involved in this industry?
RR: Thank you very much and really pleased to be a Bad Hombre. So, a little about my background. I started my igaming journey over 11 years ago and I haven't looked back since. Like most, I started out on the front line in support with a few of the biggest operators out there and after several years, made the decision to work in recruitment, but still very much within the industry.
This allowed me to build my network and I ultimately knew it would open more doors, which happened in 2019 when I got into B2B, and back into Sales with Enteractive.
From here I joined Soft2bet as B2B Sales manager which gave me all I needed when it comes to building my platform knowledge and experience. I had also done some consultancy work, before I was approached by the guys at Bad Hombre and asked to Head up Sales, Account management and Commercial teams!
CasinoBeats: What was it about the role at Bad Hombre Gaming that attracted you?
RR: This one is easy, everyone involved with Bad Hombre are Rockstars and this for me is the perfect recipe for success! I had also heard great things about Bad Hombre Gaming throughout my network and given what we had planned, it was a no-brainer!
As you can imagine, I am excited to be part of this incredible team and looking forward to what the future holds for us. Plus, I have seen the need for a pure crypto platform and service provider within the industry for a while now and feel our products and services are going to be one of the best available in the market, and we are already attracting a lot of interest… So yes, watch this space!
CasinoBeats: We understand that you're still settling into your new role, but from your first few weeks, what would you say are your key goals for this position at Bad Hombre Gaming?
RR: I am here to build the sales and account management teams, build brand awareness and help take Bad Hombre to the next level. We currently have several brands live, a few more coming this month, and we aim to launch at least another six in the next six months, bringing us to around 12 purely Crypto focused brands by the end of 2023…. And the best part of it, this is only the beginning!
CasinoBeats: Something that has become apparent about Bad Hombre Gaming is the emphasis that the company places on strong partnerships and bespoke product creation. How does this approach set you apart from the competition?
RR: We're smart about what we do when it comes to product development. I'd say we've been careful not to fall into the trap of doing bespoke things to chase quick business. Instead, we take a step back from our operator's requirements and think about how we can meet them but also do it in a way which improves our platform for all our current customers and any prospective clients.
So, where we're strong and where we differentiate is that we're giving operators the tools to bring their own brand to life while ensuring that we can remain nimble by steering clear of supporting individual bespoke solutions.
CasinoBeats: Are there takeaways from this approach that perhaps the wider igaming industry could learn from?
RR: The igaming industry is littered with the bodies of platforms who have ground themselves to a halt by trying to be all things to everyone which is understandable – it's natural to want to chase business.
However, I think that we've given ourselves a firm foundation by choosing a niche in crypto gaming and focusing on that. It means that we can deliver a premium crypto gaming platform instead of an average platform that is all things to all men.
CasinoBeats: A topic that has become increasingly topical within the crypto space is payment security. What benefits can crypto bring to your partners, and bettors, when it comes to transparency and security?
RR: For operators, it has become increasingly difficult to work within the fiat banking and payments sector – a lot of fiat-based banks and PSPs simply don't want to work with start-up businesses in a high-risk industry. Crypto removes this, there's no risk of chargebacks and you can be your own bank, you're not reliant on a bank to give you an IBAN.
For players, I think crypto casinos are at the forefront of delivering account security to their players, with features like multi factor authentication, flagging log ins on new devices etc. to substitute for something like the lack of chargebacks which might work against the player.
CasinoBeats: Where do you see the crypto casino space heading in 2023 and beyond? Could we see more companies shift their focus towards digital currencies in the future?
RR: More product innovation from crypto casinos, where they look to do more and more interesting ways of giving back value to the player. Crypto casinos are probably the best out there in providing that value back to players.
Then, there's definitely a technological barrier dropping as people realize that creating their own cryptocurrency isn't witchcraft – this opens up a lot of interesting opportunities around loyalty utility and cross over promotions between cryptocurrency projects and crypto casinos.
Bad Hombre Gaming will be exhibiting at SBC Summit Barcelona, which takes place from 19-21 September 2023 at Fira de Barcelona Montjuïc. You will be able to find the Bad Hombre Gaming team at stand CG62 – find out more about the event here.