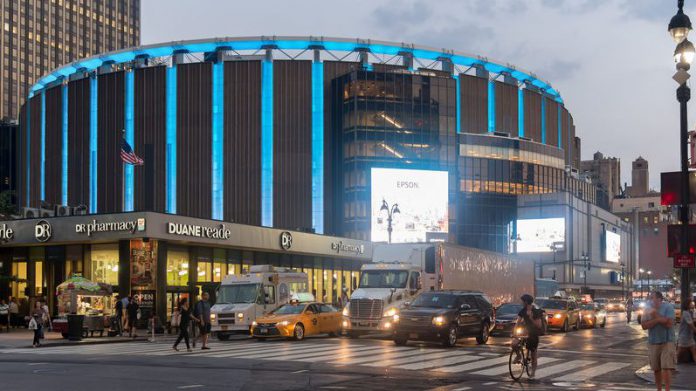 Legislation being introduced in New York could see iconic venues such as Madison Square Garden and Yankee Stadium allow in-person wagering, report US media outlets.
Bill A06113, fronted by Assemblyman Gary Pretlow, seeks to amend the current racing, pari-mutuel wagering and breeding laws in the state in order to permit sports betting.
Seeking to legalise the activity on mobile devices, in licensed casinos and in designated wagering lounges across the state, it would see individuals of 21 and over enabled to bet on professional and collegiate events, however high school competitions will not be permitted.
As stressed by USA Today, Four upstate casinos have been approved to offer sports gambling, but are awaiting final regulatory approval from the New York State Gaming Commission, which would also be responsible for regulating the market under the plans.
Operators that are permitted to proceed would be taxed at 8.5 per cent of gross sports betting revenue, with licensed casino obliged to pay a "royalty fee" of 0.2 per cent of the amount wagered on sports events conducted by registered governing bodies.
Tax collected would be split between funding a number of causes, including problem gambling education and treatment efforts.
Under the legislation, customers will be permitted to both make withdrawals and deposits from their mobile account in-person at a licensed casino or via affiliated premises.
Authorised electronic payment methods and other commission-approved means will also be accepted, however licensees must ensure that mobile betting servers are located at the facility.
While the bill did not state how much operators will pay for licences, it did clarify that casinos which seek to offer mobile sports betting will be permitted to work alongside a third-party partner, providing that the partner is also licensed by The New York State Gaming Commission.
If the bill were to be passed one key aspect of the legislation however is allowing the activity within a "sports wagering lounge," which it described as "an area wherein a sports pool is operated".
This would seemingly open the door for in-person wagering, which would particularly interest Madison Square Garden and its owners, with the Action Network revealing that the company filed to trademark "MSG" for "downloadable mobile applications for sports wagering, for organising, arranging, conducting, and participating in sports wagering tournaments, for providing information related to sports betting."
USA Today quotes Pretlow as explaining: "That is one of the changes, that we would open it up to have affiliates such as Madison Square Garden, which has expressed an interest in doing this. I think it's a great idea."
With State Senator Joseph Addabbo, adding: "To do it right, I think we need to do it in a very methodical manner. I see sports betting being rolled out over a couple of years, to make sure we do it both legally and respecting the integrity of the sport, which is very important, and protecting the consumer. And then I would suggest we do roll it out to the stadiums and other venues at some point."