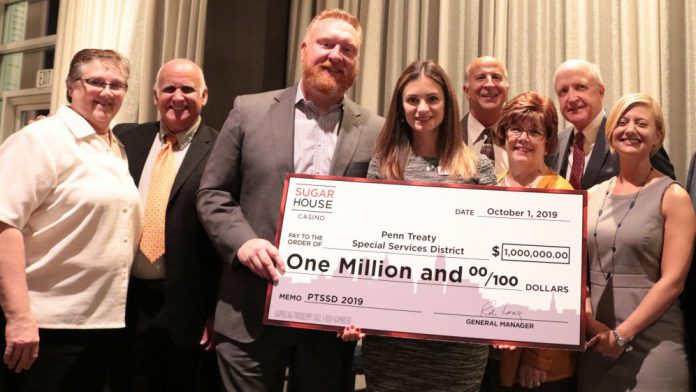 Philadelphia's SugarHouse Casino made its annual $1m contribution to the Penn Treaty Special Services District during the Penn Treaty SSD Community Service Awards earlier this month.
As a result of the latest donation SugarHouse's total contributions to Penn Treaty since 2009 comes in $7.7m, which has been used to benefit residents of Olde Richmond, Fishtown, South Kensington and Northern Liberties. 
The Penn Treaty SSD uses the casino funds to sponsor community activities and make physical improvements to parks and other infrastructure, as well as to providing financial assistance to a number of local groups.
"As a proud community partner, SugarHouse is honoured to continue working with the Penn Treaty SSD," noted Rob Long, general manager of SugarHouse Casino. "The organisation has been instrumental in improving our surrounding communities, and we're honoured to contribute to its mission."
At the presentation ceremony, Penn Treaty SSD honoured three individuals and the Kensington Soccer Club for their outstanding service benefiting the neighbourhoods surrounding the casino. 
Recognised were Matt Ruben, president of Northern Liberties Neighbours Association, Bea Rider, Green Streets coordinator of Olde Richmond Civic Association and Pat Cain, who was honoured posthumously as founder of We Care Soccer Camp. 
The Kensington Soccer Club provides year-round programs to a growing number of children from 51 different high schools across the city. 
The club works with various grassroots and community groups, while also promoting its gender equality policy to ensure young women have equal opportunities throughout each level of the program.
"We're honoured to recognise these leaders and organisations in the community, who have spent countless hours making our neighbourhoods a better place to live," added Rick Angeli, Penn Treaty Special Services District board chairman. "We'd also like to thank SugarHouse Casino for its ongoing support and commitment."
Each award recipient was lauded for countless hours volunteered with their respective organisation, and received a City of Philadelphia citation from Mayor Jim Kenney.