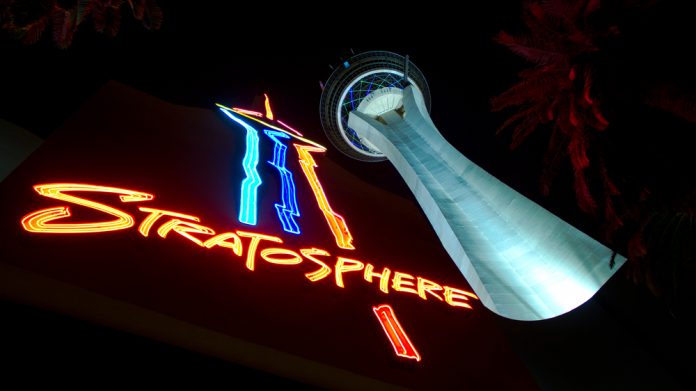 Golden Entertainment expects the majority of renovations at its Stratosphere Casino, Hotel and Tower to be finished by the close of the year, after first getting underway in June 2018.
As well as ongoing casino refurbishments, 130 hotel rooms were remodelled during the year's third quarter with the firm expecting to add a further 126 by the end of 2019, taking its total to 573.
Earlier in the year the firm opened a new tap house, lounge and sportsbook and completed renovations to the SkyPod on the 108th floor of the tower, which includes a remodelled gift shop and food and beverage outlets as well as improvements to the SkyJump experience.
As of the close of the third quarter the Las Vegas headquartered firm had invested a total of approximately $70m on The Strat renovations since they began, including in the region of $16.6m during Q3.
The company expects around $20m of additional capital expenditures for the property in 2019, which will complete the majority of Golden's planned renovations at The Strat. For 2020 no major capital investments are planned.
Blake Sartini, chairman and chief executive officer of Golden Entertainment, explained: "We continue to make significant progress on our renovations at The Strat and anticipate completing most of our renovations by year end. We are currently working to complete the casino floor renovations by the end of December, which will dramatically enhance the gaming experience for our guests. 
"In addition to our casino floor renovations, by the end of the year we will have remodeled almost 600 hotel rooms, created new food and beverage outlets, refreshed our Top of the World Restaurant and Skypod, updated the property's exterior lighting and landscaping, and added new entertainment venues and other amenities. We believe these renovations will position The Strat for success in 2020 and for many years to come."
The update comes as Golden publishes its latest financial update for the third quarter, during which targeted synergies from its Edgewater and Colorado Belle Casino Resorts acquisitions in Laughlin were lauded.
Securing record third quarter net revenues and adjusted EBITDA, the former came to $243.3m, up 15.7 per cent from $210.3m, with the latter increasing 12.9 per cent to $43.1m (2018: $38.1m).
Casino revenue grew 20.4 per cent to $155.1m (2018: $128.8m) during the period, driven by the aforementioned purchases, with the firm also stating that True Rewards, the new one-card loyalty program, is available in over 130 of Golden's casino resort and distributed gaming locations.
Sartini added: "We are pleased to see the continued organic expansion of our leading distributed gaming businesses in Nevada and Montana where we have a long history of operations. 
"We intend to continue to invest in our current distributed gaming markets and to pursue potential opportunities in new jurisdictions where we expect to leverage our scale and expertise to establish a meaningful presence.
"Now that our True Rewards loyalty program has been successfully implemented in all of our casino properties, we will further roll-out this integrated players club to all of our 66 tavern locations and certain chain store locations in Nevada. 
"We expect that our ability to incentivise customers across more than 130 Nevada casinos and distributed gaming locations will be a significant point of differentiation that drives customer loyalty and incremental revenue."