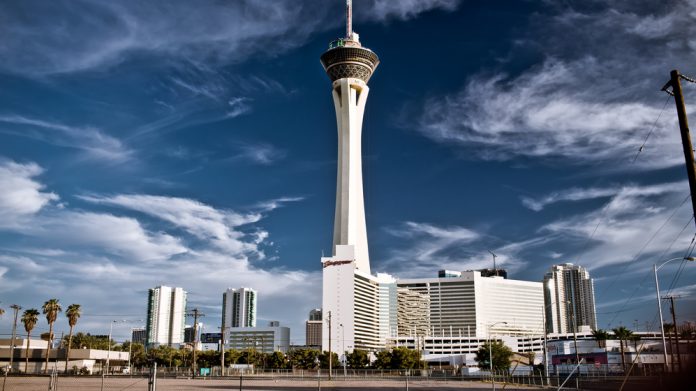 Las Vegas headquartered Golden Entertainment has reported record fourth quarter net revenues and adjusted EBITDA, as the firm asserts that The Strat's completed re-branding and renovations positions the property for long-term growth.
Fourth quarter revenues of $242.1m were up 15.2 per cent from $210.1m, which helped nudge the company's full-year performance to a 14.2 per cent increase as it ended on $973.4m (2018: $851.7m).
Net loss for the firm finished at $7.7m during the quarter, as opposed to $25.3m a year earlier, however a significant increase was felt on a full-year basis from $20.9m to $39.5m. 
Golden Entertainment's casino revenue grew 21.4 per cent to $150.2m (123.7m) during Q4, nudging its total performance for the year to $615.4m, a 19.7 per cent increase to $513.9m.
The company's year over year casino segment increases were driven by the acquisition of Edgewater and Colorado Belle Casino Resorts in Laughlin, Nevada in January 2019, as well as growth at each of Golden's legacy casino operations.
Distributed gaming revenues increased 6.3 per cent to $91.7m from $86.3m during the fourth quarter, due to continued growth in Nevada as well as the addition of six new locations and ongoing exclusive access to high-performing slot products in Montana.
Blake Sartini, chairman and CEO of Golden Entertainment, commented, "Golden generated record fourth quarter revenue and adjusted EBITDA as we again achieved growth across our casinos and distributed gaming operations. In the fourth quarter, total revenue rose approximately 15 per cent and adjusted EBITDA increased more than 25 per cent. 
"The strong operating results reflect contributions from the Laughlin properties that we acquired last January as well as year-over-year growth at all of our other properties and distributed gaming operations."
Before adding on The Strat renovation: "During the fourth quarter, we focused on completing our renovations and rebranding initiatives for The Strat. Since beginning our remodel mid-2018, we have created an entirely new and modern guest experience at the property. 
"In the fourth quarter we completed the renovations of the main casino, the front desk and the VIP check in, as well as the remodel of an additional 126 rooms. With almost 600 rooms now remodeled, we have updated approximately 25 per cent of the hotel's room base and will continue regular room updates as part of our ongoing capital plan. 
"In addition, we have made significant upgrades to our F&B offerings, created new experiences in the iconic SkyPod, added award-winning entertainment and completely updated the property's exterior. 
"We have been able to make all of these renovations with an investment of approximately $110m. The Strat is now positioned to better service its existing customers as well as compete for future customers."