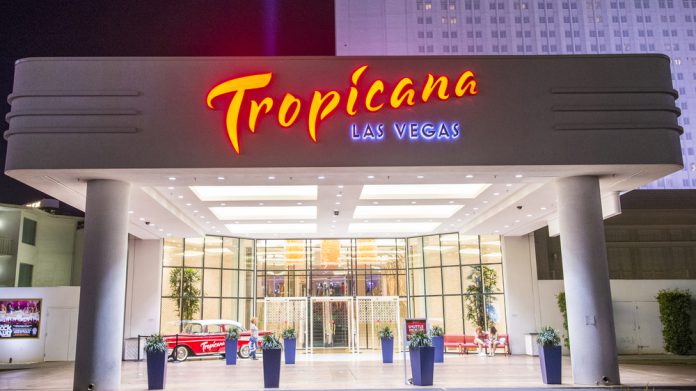 Penn National Gaming and Gaming and Leisure Properties have reached a $337.5m non-cash rent payment agreement for the real estate assets of the Tropicana Las Vegas hotel and casino and the land for a planned property in Morgantown, Pennsylvania.
Coming almost four months after it was first reported that Tropicana could become the first large scale Las Vegas sale of 2020, real estate investment trust GLPI expects the transactions to be finalised by April 30, subject to negotiation of definitive agreements in the coming weeks and receipt of necessary approvals.
News of the transaction comes as PNG navigates the continually evolving COVID-19 pandemic, as the company asserts "difficult decisions" are being made to preserve a bright future.
Both parties will enter into a lease for the Morgantown land which will generate $3m of initial annual cash rent for GLPI, with PNG also agreeing to engage in an early renewal for both its master leases with the firm. 
"Today we announced an agreement with our principal landlord, Gaming and Leisure Properties, involving the sale of the Tropicana Las Vegas real estate assets (we will continue to operate the facility) and a new ground lease for our planned Category 4 casino in Morgantown, Pennsylvania, in exchange for $337.5m in rent credits," explained Jay Snowden, president and CEO of Penn National. 
"In addition, the deal includes an option for us to acquire the operations of GLPI's Hollywood Casino in Perryville, Maryland at a future date. We greatly appreciate the cooperation, creativity and partnership shown by GLPI during this challenging time. 
"While this transaction will help to relieve liquidity pressure in terms of rent obligations, we are committed to taking further steps to reduce our ongoing operating expenses in order to ensure we have a healthy business to return to when we are able to re-open our doors,"
Furthermore, Penn National is granting the company downside protection for any future competitive impact that Penn National's new category 4 developments in Pennsylvania may have on the GLPI facilities subject to the Penn National master lease. 
Pursuant to the agreement, GLPI has also granted Penn National an option to acquire the operations of Hollywood Casino Perryville, one of its taxable REIT subsidiary properties, subject to the execution of a lease agreement.
Peter Carlino, GLPI's Chairman and CEO, explained, "This is a win-win agreement that significantly enhances GLPI's certainty from the master leases with Penn National as it assists Penn National in meeting its GLPI rent obligations while helping to create a stronger liquidity roadmap for Penn National.
"Given the rapid onset of closures related to COVID-19, these agreements are structured in a manner that allows both companies to achieve their longer term objectives once the virus and its associated impacts abate. For GLPI, we are receiving attractive real estate value which represents a prudent and thoughtful approach toward ensuring that our shareholders are made economically whole while positioning Penn National with a healthier runway to navigate the impacts of COVID-19 over the long term.
"These strategic transactions strengthen the credit support behind GLPI's rent payments, allows GLPI to control a unique and iconic site on the Las Vegas Strip without carrying costs, offers unique protection to the Penn National master lease from potential competitive pressure, and enhances long term cash flow visibility though the lease renewals.
"We believe the transactions announced today reflect the strong working relationship and continued alignment of interests between GLPI and Penn National as well as our commitment to enhance long-term shareholder value."