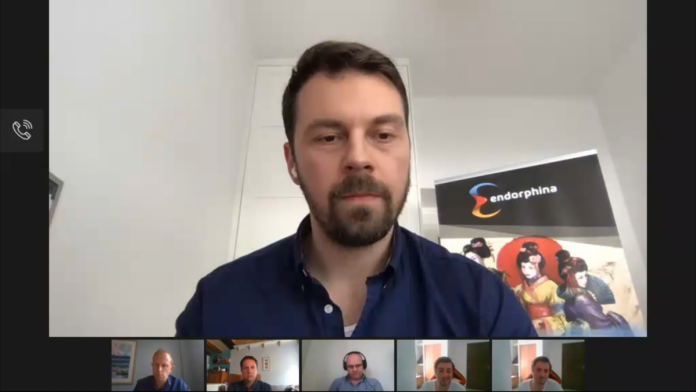 Due to the ongoing COVID-19 global health crisis, the world finds itself dealing with exceptional circumstances. Having continued to operate online in this period, casinos are now seeing an increase in users however questions still remain regarding the future of the industry post-COVID.
Discussing their professional experiences through the ongoing health situation, four industry specialists took part in a panel titled 'Marketing Slots in the new Environment' that was moderated by Square in the Air director James Bennett.
Opening up the panel Ross Parkhill, managing director at Rizk Casino, said: "In terms of casino it's definitely a good period at the moment. We have experienced solid KPI across the board and more active players. It's a true indicator that people are seeking other forms of entertainment. We've seen a pick up and it is welcomed even though we are in unfortunate times. 
"We haven't changed much. we've tried to keep things in check and we haven't tried to increase promotions. It is very much business as usual so nothing has really changed on our end, but we are trying to make sure we're sensible with our campaigns and ensure there is no link to lockdown or anything irresponsible. 
"We have more players but it is no time to be spamming players. It's already an active market, we have nice campaigns aimed at our players with what they want, we just need to make sure what we're doing is good and make sure it's valuable to players and well received. 
"I'm a big believer that players come to play games. Our main driver is entertainment through the game. We can add parts to make it more interesting but they come for games. Using that as a part to attract players is what we do. I don't think bonuses will go away but there is a financial incentive at the moment not to do bonuses. Things are getting tighter in the industry so it is a good time to start moving away from them. 
"There hasn't been anything groundbreaking during lockdown. We've seen a good increase widespread, a lot of countries are locked down and our key markets are seeing the same measures in place. Across the board we've seen more activity and sign ups. Everyone is seeking out entertainment so it's not too surprising and for us it's quite global spread." 
Parkhill was joined on the panel by Endorphina CEO Jan Urbanec who provided a suppliers perspective on the current trends. Urbanec echoed the Rizk Casino MD's thoughts on an upward user growth: "From the point of view of a supplier we have a macrodata-style outlook. 
"We've seen a growth of GGR and number of spins – mainly spins because players have more time to play. Customers who are focussed on casino have also produced a small stable jump up, however, customers that were on sportsbooks prior to the lockdown measures have grown most with us, a jump of around 50-70%, but I would say its short term in this case. 
"Regarding marketing I would say everyone feels that sportsbook players will move by themselves and there is no need to push them, this is wise. Players are sensitive to obvious campaigns, so we decided to market more towards reliability, we don't want to boast about our products, it doesn't show good spirit, so we are confident that our marketing giving players confidence in us. 
"We've also seen that players tend to move towards classic games instead of new releases. Our classic hits have gone up and we have decided to push marketing this way. We've advertised that despite aspects of life being cancelled games are still here, not a push but more of a reminder to players. 
"For us there's been a general increase across all of our games  From our point of view though, we as an industry need to be careful not to be interpreted as something that is abusing the situation, but with this being said we shouldn't be afraid to keep our product live. I believe in the future we should remain stable in how we market our message." 
Joining Parkhill and Urbanec on the Green Jade Games-sponsored panel was William Hill International brand director Neill Simpson and CasinoGrounds CEO Tobias Svensen.
The SBC Digital Summit runs from 27 April to 1 May 2020 and features seven conference tracks, a virtual exhibition and virtual networking lounges, attracting an estimated 10,000 delegates logging in from around the world.
There is still time to register for the event, with company discounts available: https://sbcevents.com/sbc-digital-summit/tickets/.