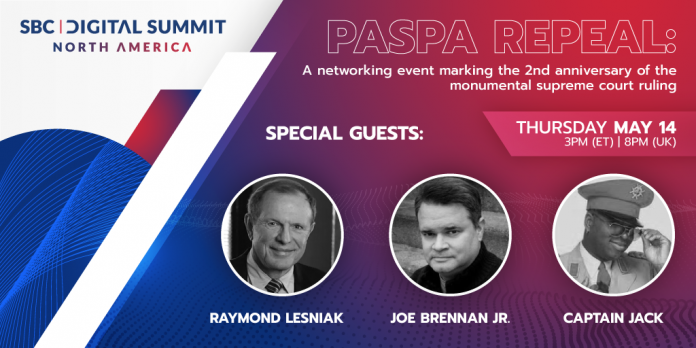 Join SBC on Thursday 14 May for PASPA Repeal, a digital networking event marking the second anniversary of the monumental US Supreme Court ruling.
The organiser of the SBC Digital Summit North America and Betting on Sports America has arranged the special virtual session to provide a forum for industry stakeholders to assess the impact of the decision to strike down PASPA.
It will also allow operators, suppliers, affiliates, lawmakers, advocates and the media to discuss the progress made towards the creation of a thriving market over the last two years and what the next steps for the US sports betting industry might be.
Featured guests at the virtual networking event include:
Raymond Lesniak – the former New Jersey Senator who spearheaded the campaign to repeal PASPA.
Joe Brennan Jr. – CEO of SportAD, former Director of iMEGA and a leading campaigner against PASPA. 
Captain Jack Andrews – Professional sports bettor, gambling educator and writer.
In addition to hearing the insights of the featured guests, attendees will have the opportunity to ask questions, share their own views on the industry and make new connections. 
Everyone from the U.S. and international betting and gaming industry is welcome to join the event, which starts at 3:00pm ET / 8:00pm BST on Thursday 14 May.
To register for PASPA Repeal, please click here.