Our goal is simple, yet difficult to achieve and therefore, very exciting, explained Andrey Kuznetsov, CEO of KamaGames as he discussed the company's future vision as it approaches an important milestone for one of its apps.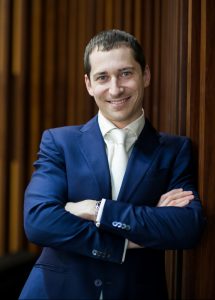 On June 26, KamaGames will celebrate the ten year anniversary of its flagship app Pokerist being introduced to the market. Since its inception, the app has gained a high ranking among similar apps and has attracted around 140 million users.
Over the last decade, KamaGames has also boosted socialisation features on the app through the inclusion of instant messenger features, chat features and sending gifts at the tables.
CasinoBeats spoke to Kuznetsov to reminisce over the last decade, how the company has adapted over the years and its vision for the feature.
CasinoBeats: Today marks 10 years since Pokerist was launched – what would you say have been the biggest milestones for the app during that period?
Andrey Kuznetsov: Reviewing the history of the company, I could see that there were lots of milestones but I would like to highlight the key ones.
The launch of Pokerist, the company's flagship product happened in summer 2010. This launch still stands as one of the biggest milestones for the company as a whole as this was the first step towards our leadership position in the social casino genre. In 2011-2012, Pokerist held number one position in top-grossing charts in more than 100 countries on App Store and Google Play.
In the spring of 2013, we launched a second product, Roulettist. While we were proud of how we refined and perfected our poker product, the test here was to see whether or not we could replicate that success with another game. Today, Roulettist still has the highest revenue and download rates among the other roulette games on mobile platforms.
At the end of 2015, our 3D blackjack product – Blackjackist – was released. Just as roulette it's currently number one  on mobile platforms.
Each of these achievements solidified our belief that we can provide the best products on the market and occupy this niche area of the card and casino gaming sector.
Finally, in 2016 we became one of the first companies to develop meta inside a poker or casino application. This includes quests, tournaments, events, live-ops etc. Numerous features that are now widely seen in poker apps were first seen in Pokerist! Since then, we've been growing by as much as 30-50 per cent per year.
"People come to the app not only to play but also to socialise and find their community."
CB: You mentioned that socialisation features have been key for Pokerist's success – can you give us some examples of these? And how have these helped you stand out from competitors in quite a saturated market
AK: We have a joke at KamaGames where we say "Pokerist isn't really a poker application but a social network" and it's absolutely true! People come to the app not only to play but also to socialise and find their community. Players have ample opportunity to make friends within the game as well as communicate through a variety of means.
Pokerist contains a large number of features that enable expression and communication with both friends and rivals alike. This includes chats, quick phrases, gifts and animated emojis. There's also an option to join a specific table where friends are playing or to invite friends to your table. We're confident that this is a significant factor in our players returning to Pokerist repeatedly which is interesting when you consider that some of our players have stayed with us for more than eight years now.
It's quite hard to illustrate our success with just one example as this has been the result of consistent work across our whole system.
A high number of these social features appeared in Pokerist before other casino apps and we plan on building further in this area in the years to come.
CB: In what ways has Pokerist adapted to the advances in technology over the last few years?
AK: We believe that we have made a very technologically fluid product. In fact, it is an interactive platform hosting a number of solutions that almost no one in the market has. First of all, there's an opportunity to quickly develop 3D casino and card games using ready-made solutions: animations, client and server solutions, interfaces, product features, middleware, analytics, support, live-ops system. Due to this system, we launched a number of products like baccarat, craps, Omaha poker etc. All of them are number one in the market in their categories.
We can also quickly adapt our project for any platform. In addition to the App Store and Google Play, our products are available on desktops, web, PlayStation and a variety of Android stores.
Using our platform, we have the ability to make casino partnership projects with big companies. In the previous ten years, we have launched separate casino applications with Hard Rock International, Poker Night in America, Viber messenger and Manchester United.
What's more important is that this platform allows us to develop new, amazing products.
"We're playing our cards close to our chest but ultimately, we want to bolster our growth even further."
CB: You've clearly had successes over the past ten years, what are your aims for the next 10?
AK: Our goal is simple, yet difficult to achieve and therefore, very exciting. We're playing our cards close to our chest but ultimately, we want to bolster our growth even further. We don't want to simply maintain our current growth rates, we want to surpass them.
Our plan is to launch more number one products in our genre. We have a roadmap of ideas spanning the next couple of years and we're confident that the majority of these ideas will prove successful additions to our already expansive portfolio.