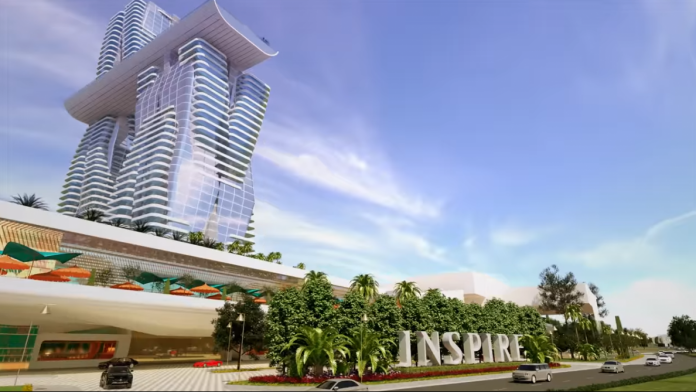 Mohegan Gaming and Entertainment asserts that its Inspire Athens integrated resort and casino will launch a new era of tourism and economic growth for Greece and Southeast Europe.
The pledge comes after the Connecticut headquartered developer and operator become the recipient of an operating licence by the Hellenic Gaming Commission regarding the development. 
The winning bid from MGE, submitted in partnership with Gek Terna, proposes a facility that includes a luxury hotel, premier entertainment venues, convention centre, shopping, dining, casino, and a comprehensive mix of premium amenities.
MGE comments that it expects the venue to attract an influx of international tourists, which it says will "provide a significant contribution to the pioneering Hellinikon Project that will redefine the modern identity of Greece".
The casino property is to form one part of Lamda Development's wider €8bn Hellinikon Project, being developed on the site of the old Ellinikon International Airport which has sat empty for over 18 years after being replaced by the new Athens entity.
The wider multi-faceted construction is also slated to incorporate a metropolitan park, shops, offices, sports and conference facilities, luxury hotels, museums, malls, cultural venues, health centres, educational and research facilities and a marina.
"We are honoured to have been chosen by the Hellenic Gaming Commission and believe that as the first Integrated Resort and Casino experience in Greece, Inspire Athens will further solidify the City of Athens as one of Europe's most enticing and iconic destinations," said Mario Kontomerkos, Mohegan Gaming and Entertainment's president and CEO. 
"We recognise the importance of this transformative effort for Greece and are looking forward to leading the charge for one of the most ambitious development projects ever undertaken in the country."
MGE's involvement in the Hellinikon Project will support Greece's local economy through the creation of more than 7,000 jobs in the region during and after construction, including direct, indirect, and induced employment. 
Furthermore, the project is also expected to contribute millions of euros annually to both the government and the people of Greece in the form of taxes, infrastructure improvement, and public services. International tourism in the Attica region is also expected to grow by at least 10 per cent.
Mohegan's Inspire Athens to launch a new era of tourism & economic growth Video: