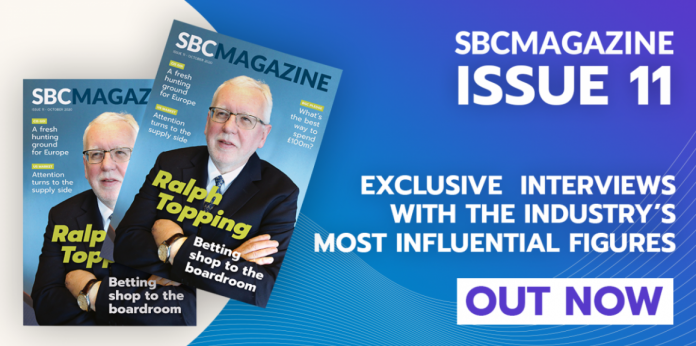 Issue 11 of the SBC Magazine is here, featuring a multitude of key discussions with industry executives across a variety of gaming and betting environments worldwide.
Kicking things off by taking a look at the casino section, we ponder the question 'What's the best way to spend £100m?', and focus on whether the research, education and treatment service industry is capable of efficiently using the investment from operators.
Furthermore, it doesn't stop there, as Coingaming Group's Tim Heath creates a buzz around bitcoin, Brazil and the Bombay Club.
To download or read the magazine online, click HERE.
The latest issue begins with an exclusive interview alongside former William Hill CEO Ralph Topping, who reflects on his journey from a part-time cashier in one of Glasgow's independent betting shops to the boardroom of William Hill.
Topping looks back on the ways that UK betting shops have evolved in recent years and how bookmakers have been forced to diversify to meet the changing demands of the punter. 
The sports betting section also features a detailed analysis of the fresh hunting ground for operators across Eastern Europe's CIS region, however panellists at SBC Summit Barcelona – Digital urged betting companies to exercise caution when it comes to navigating cultural clashes and regulatory inconsistencies.
Similar to the CIS region, the US is still one to watch as we discuss the gold rush to capitalise on the $35bn market, ties to the stock market and the rise of the special purpose acquisition company (SPAC).
Sticking with the US, Playtech's chief operating officer Shimon Akad asks whether the tipping point has been reached in the post-PASPA for suppliers, as much as it has for operators, and the importance of supplier cooperation. 
Moving south to the Latin American market, discussions turn to why the continent needs to look beyond football and instead consider the betting opportunities available for boxing, tennis, greyhound and horse racing.
Sports sponsorships are one of the hot topics discussed in our marketing section as we address the potential ban on gambling advertising and the creative strategies that operators may use to maintain and grow their brand identity. 
And for everyone holding on to the hope of life going back to normal in the near future, we also reveal details of five physical events that SBC has scheduled throughout 2021.
AstroPay CEO Mikael Lijtenstein takes us through the demand for changes to the payments ecosystem amongst the young population in Africa, as he believes that there is clearly an ongoing shift from traditional payments towards cashless across the continent.
Rounding off the magazine, Jari Vähänen, formerly of Veikkaus and now a partner at The Finnish Gambling Consultants OY, looks at lottery companies which have expanded their offerings beyond the traditional products and how they have fared much better than those who have stuck solely with their core business.