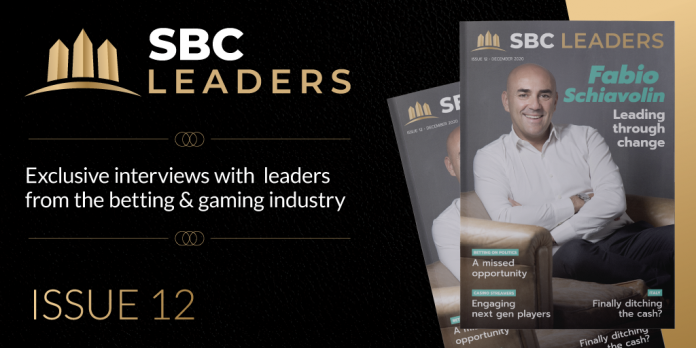 "With many of us now spending more time at home, we are also online more often across the day and constantly connected via a host of different devices," noted FunFair Games' COO, Lloyd Purser, as he expanded on the growing influences of streamers in the casino industry. 
The exclusive interview with Purser, alongside Tobias Svensen, CEO of CasinoGrounds, can be found in the final 2020 issue of SBC Leaders, formerly known as SBC Magazine, which is now available to view online HERE.
As part of the interview we delve more into live streaming for online gaming, a market projected to more than double in growth by 2021 and generate more than $70bn. Click HERE for the expert take from Purser and Svensen. 
"This has led to a further acceleration in casino streamers' influence across both traditional online and social channels such as Instagram," he added.
However, he's far from the only leader to feature this time around, as we hear from Casey Clark, SVP for strategic communications at American Gaming Association, on the fight to turn sports bettors against illegal operators. Are we doing better than expected?
Meanwhile, Betsson's Andrea Rossi (commercial director for Southern Europe and Latin America), is looking to the future, as he explains why the momentum shared by the betting industry and football (post-lockdown) has given a glimpse into the 'successful coexistence' for operators and teams in the region.
Moving on to affiliate marketing, we learn how GiG Media has taken the 'unconventional' approach (by its own reckoning) of investing in highly engaging content mediums such as video and podcasts for the US.
Managing director, Jonas Warrer, and Milorad Matejic, director of SEO and publishing, also outline where it all started and shaping the journey of WSN from a somewhat neglected but valuable three letter domain, to the rising star of the division's publishing business.
2020 will, inevitably, go down in the history books as a year of struggle, underpinned by sweeping restrictions on our day-to-day lives. But it's fair to say an opportunity presented itself for the online payments industry, even amongst the least 'digitised' of spenders.
For a long time, it seemed nothing would make Italians embrace the move from cash to digital payments. However, this analysis from MuchBetter – backed up by recent research from Mastercard, explains why the coronavirus may just have caused a rethink.
To download or read the magazine online, click HERE.