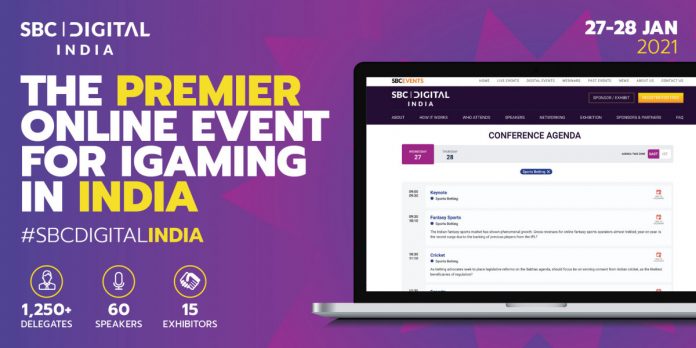 The conference agenda for SBC Digital India is set to provide a comprehensive analysis of the vast potential of the country's real-money gaming industry, with content that delivers insights on the future of the sports, online skill game, land-based casino, lottery, and esports sectors.
The new online conference and exhibition on 27-28 January 2021 will feature a line-up of 60 senior executive speakers, who have been selected to provide the perspectives of both the local industry and international players on the market opportunities in India.
Day one of SBC Digital India will focus on the role of sports in the RMG industry. The agenda begins with a session devoted to the next steps for the online fantasy sports sector, which has grown into a 90 million player market on the back of T20 cricket and operators making significant investments in product development.
There are also panels assessing what a regulated domestic betting market could mean for cricket, the relationship between horse racing and online gambling, and the future of India's fast-growing esports market. Further sessions will put the role of professional athletes as brand ambassadors under the spotlight and evaluate the potential for affiliate marketing in India's RMG industry.
Attention will turn to gaming on day two, with the agenda featuring sessions evaluating the prospects for the expansion of the land-based casino sector, the growth potential for the region's online poker operators, and the future of lotteries. Another expert panel will examine the crucial issue of the legality of online skill games, which are facing bans in some states despite their huge popularity with players.
The event will close with a focus on some of the elements driving the growth of RMG, with panels delivering expert insights on India's evolving technology, digital payments, and investment sectors.
Rasmus Sojmark, founder and CEO of SBC, said: "The market for real-money gaming in India offers huge growth potential for both local companies and international operators, but as with any fast-growing market, there's a lot to learn.
"SBC Digital India will provide businesses with the insights they need to identify the best opportunities, along with valuable information about the key legal, product, operational, and marketing challenges they are likely to face."
Delegates can also look forward to seeing innovations tailored to the Indian market from some of the world's leading suppliers in the event's interactive product display area, and to connecting with fellow attendees during the programme of networking roundtables.
For further information about the event and to register for free, please visit the official SBC Digital India website.
To enquire about the remaining exhibition and sponsorship opportunities, please contact [email protected].