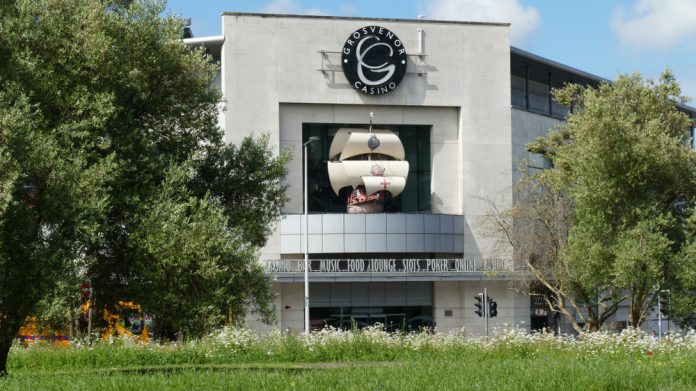 The Rank Group says the impact of the COVID-19 pandemic on the hospitality sector "has been particularly hard" on the company, with venue closures and restrictions leading to a 55 per cent reduction in group NGR for the six month period to December 31, 2020. 
With the group's facilities losing 45 per cent of available operating days, this saw NGR during the H1 period came in at £177.6m (2019: £391.8m), as Rank updates that "our venues remain closed and they are likely to remain so for much of Q3 and quite possibly into Q4".
Business venues, including, Grosvenor, Mecca and Enracha, which accounted for 78 per cent of Rank revenue in H1 2019/20, have seen like-for-like revenues cut by 70 per cent in the first half of the year. 
Subsequently, the resultant impact has seen the group's underlying operating profit falling from £57.7m in the same period one year ago to an underlying operating loss of £33.2m in 2020/21.
Looking at NGR across the firm's four key reporting segments, on a like-for-like basis digital improved slightly to reach £66m (2019: £65.2m), Grosvenor dropped 78 per cent to £43.1m (2019: $198.1m), Mecca fell 56 per cent to £38.8m (2019: £88.8m), and its international facilities declined 53 per cent from £19.1m to £9m.
A 10 per cent growth in active customers in UK digital brands helped to offset much of the impact of an application of affordability restrictions, and "good progress" noted in the development of Stride's proprietary technology platform, with Bella Casino successfully migrated, and Mecca and Grosvenor on track for H2 2020/21 and H1 2021/22, respectively.
John O'Reilly, chief executive of The Rank Group, explained: "There is no doubt that the impact of the COVID-19 pandemic has been far beyond anything we or any other leisure operator could have imagined or planned for. The ever-changing restrictions coupled with curfews, which in particular have a seismic impact on our Grosvenor venues, have resulted in an exceptionally challenging first half for the group. 
"I have remained incredibly impressed with our teams who have displayed high levels of professionalism and adaptability under the continuously changing circumstances. 
"Despite the difficulties we are facing, they have continued, through a range of initiatives, to help our local communities, front line workers and those who are vulnerable. 
"We have taken a stringent approach in applying affordability restrictions, particularly on higher staking customers, which has impacted revenues in our UK facing digital business in the half. We have been making good progress in the development of our proprietary technology platform to prepare the digital business for its exciting future. 
"Once we have successfully completed the migrations of Mecca and Grosvenor, our in-house technology and development capability will give us much greater agility and speed in delivering developments, providing the group with a platform for growth both in the UK and internationally."
Looking at its current trading, the company notes an improving performance across its UK facing digital business, as well as "good growth continuing" in the Yo brands. The outlook for the group reflects the successful roll-out of the vaccine, and the speed with which hospitality reopens and restrictions are eased, with hopes asserted of being fully reopen by the summer.
O'Reilly adds: "There continues to be uncertainty looking ahead, particularly as our venues remain closed and we have no firm guidance as to when we will be able to reopen. 
"We remain focused on managing our liquidity position and, following the successful £70m equity placing in November 2020, combined with the support of our lending banks, I believe we have the balance sheet strength to survive an extended period of closure. 
"We are now focusing on delivering the next stage of our transformation plan and are ready to reopen our venues when the virus is under control and the vaccine roll-out has achieved its purpose."