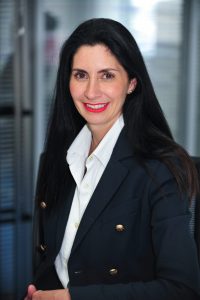 Creating different variations of existing mechanics can keep an offering "fresh and interesting", said Jo Purvis (pictured) – director of key accounts and marketing UK at Blueprint Gaming. 
With the addition of Prize Lines, she believes that the game studio can bring a new lease of life for already popular titles such as Fishin' Frenzy. 
Speaking to CasinoBeats, Purvis explains how Prize Lines combines the best of traditional slot and grid games, before touching upon the ways in which Blueprint Gaming plans to offer a "bespoke style of game" for bingo players.
CasinoBeats: Prize Lines marks a new direction for Blueprint Gaming. What was the thinking behind developing this new mechanic?
JP: The key strategy for Blueprint Gaming is to develop a diverse content portfolio, which appeals to the widest range of operators and players. This involves keeping on track with the trending games and mechanics currently in the igaming marketplace, but more importantly, experimenting with new in-house developments, which our design and development team are constantly devising. 
In recent times, we have introduced new game formats to the market that have broadened the appeal of our slots offering. For instance, the creation of Power 4 Slots changed the way in which players could enjoy our content by playing across four sets of reels at the same time, while the development of Lightning Spins offered a different bonus experience for players. 
Variations of existing mechanics keeps our offering fresh and interesting, and the inception of Prize Lines is the latest example of this. Players are able to enjoy something new from us, while it also provides operators with new marketing opportunities to attract the interest of players.  
CasinoBeats: Can you talk us through how Prize Lines works?
JP: Prize Lines is a unique offering which combines elements of traditional slots and grid games. Players are given a number of spins to accumulate symbols and complete Prize Lines that move them up the win ladder – the more winning lines, the bigger the prize. 
The prize lines are not that of a traditional slot in a left to right format, instead paying horizontally, vertically and diagonally. After their initial spins, the player can choose to start a new game, collect any prize they have achieved or pay to take an extra spin to try and achieve a better prize. That's the beauty of Prize Lines – the decision is in the player's hands.
CasinoBeats: While clearly Prize Lines will be appealing to the softer player profile, have the mechanics featuring 'hold over' symbols been designed to capture the interest of seasoned slot players too? 
JP: The hold feature that appears within Prize Lines is nothing new to gaming, but offers an alternative way of enjoying the format. It's another feature that has transferred across from the land-based environment, although slightly simplified from the traditional mechanical reel days where players also had the option to choose the reel hold or cancel if an auto-hold played out. 
This in turn will ensure Prize Lines is appealing to seasoned players because of its legacy. The increased chances of triggering a feature, as well as starting a new spin that is already closer to a big prize, should be highly appealing to many individuals. 
CasinoBeats: Prize Lines has launched with Fishin' Frenzy, one of the most recognisable franchises in the industry at present. How important are new gaming mechanics such as Prize Lines in breathing new life into popular brands? 
JP: It's a win-win situation from our perspective. Prize Lines helps to breathe new life into a popular game, which in turn will attract a wide audience to the new mechanic as Fishin' Frenzy has such a strong following across Europe. 
Players who enjoy Fishin' Frenzy games will already have an understanding of the theme, the symbols that are incorporated and which ones are the highest paying. Adding a new feature, such as Prize Lines, to a recognised theme adds familiarity to something which is essentially brand new.
CasinoBeats: Do you have plans to roll out Prize Lines across any other of your existing titles or new creations in the coming months? 
JP: Prize Lines will certainly play a part of our offering heading into the second half of 2021. We believe it's something that will resonate with a player base that we want to engage more with our portfolio.
The bingo market is a big market share and one which we aim to raise over the coming months with new integrations which are currently in the pipeline. Instead of expecting bingo players to change their characteristics, we want to offer them a bespoke style of game which will be appealing to that specific demographic.  
Along with introducing new games that incorporate Prize Lines, we'll also be releasing an exciting collaboration between the new mechanic and Jackpot King, the industry's leading progressive pot system.