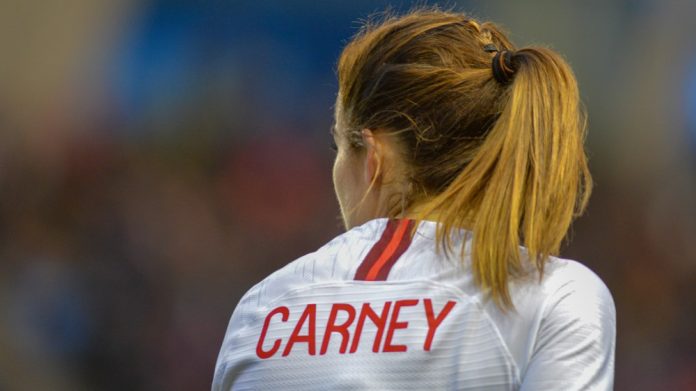 Former England footballer Karen Carney is aiming to generate conversation around the impact of gambling and encourage people to seek help through TalkBanStop, ahead of the commencement of Euro 2020 this week.
The campaign was originally launched in December 2020 by GamCare, Gamban, and Gamstop, who offer a combination of free tools to block access to gambling websites and self-exclude from gambling accounts, as well as support that will help those worried about their gambling to take back control.
Ahead of the start of the Euros on Friday 11 June, Carney, England's third-most capped player of all time, is fronting the campaign as GamCare predicts "a rise in women seeking help" as a result of the football showpiece.
During the 2018 FIFA World Cup, GamCare says that calls to its helpline recorded a 14 per cent increase, with 85 per cent registered by women, as overall calls from gamblers increased by five per cent during the tournament.
Furthermore, the charity says that it has seen surges in betting emails around the Euros, a rise in self-exclusion, and increased calls to the National Gambling Helpline, alongside referrals from the helpline that deals with cases linked to sports betting.   
"Gambling is increasingly accessible to women, particularly online, as it feels discrete and doesn't involve making a special trip, for example to a betting shop," stated Anna Hemmings, CEO at GamCare. 
"We want to encourage anyone worried about themselves or someone else to contact us – we can offer expert advice and arrange for them to get the support they need.
"We want people to feel that taking the first step, by seeking non-judgmental help from our trained advisers, is a positive move, and get the free tools and support available through TalkBanStop.
"Gambling can cause serious harms and we welcome discussion to bring this problem to the public consciousness, and to ensure we can secure sustainable funds to meet the needs of those affected."
The campaign forms part of GamCare's new organisational strategy, in which the charity aims to break down social barriers with regards to providing treatment support for women, ethnic minorities and across low income communities.
Research has also found that 82 per cent of women that gamble use online services via their phone or personal devices, utilising games or apps, as opposed to taking part in gambling in person, such as at a casino or betting shop.
Carney said: "Campaigns like TalkBanStop are so important in raising awareness of the free resources available to everyone out there, particularly women who have battled with gambling around sport. Ahead of the upcoming Euros, it is important we raise awareness of the support that is available.   
"There is a stigma associated for women and challenges around speaking out and seeking help, so it's key to highlight the link between gambling and sport to help these women and girls on their journey to recovery.
"The Euros are an exciting part of the global sporting calendar, but for some, it can prove to be a challenging time with heightened gambling opportunities as a result."