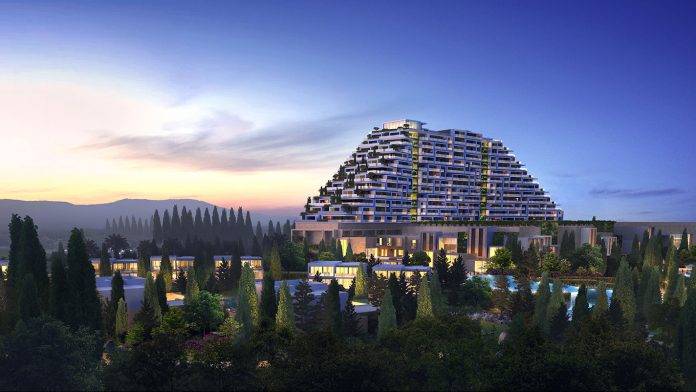 Melco International Development has reasserted a commitment to its ongoing international investment program, as the group praises a steady economic growth recovery during the six months ending June 30, 2021.
Melco International, the parent company of casino gaming and entertainment resort developer and owner Melco Resorts and Entertainment, makes the comments upon publication of its interim results.
The group has reported net revenue for the six-month period of HK$8.43m (US$787.5m),which represents a 9.7 per cent increase compared to the HK7.68m (US$717.4m) recorded one year earlier.
This increase was largely due to an improvement in performance across the mass market table games segment and non-gaming operations owing to an increase in inbound tourism in Macau compared with the previous year.
Lawrence Ho, chair and CEO of Melco International, said: "Macau has enjoyed a steady recovery in its overall economy as travel restrictions loosen and visitors gradually return. 
"This also led to a gradual recovery in business levels at our integrated resorts during the second quarter of 2021.
"With the most notable recovery currently being driven by mass and premium mass-market players, we will continue to focus on the development of these market segments going forward."
Loss after tax for the period was HK$3.75bn (US$350.3m) compared with HK$7.06bn (US$659.5m) in the same period of 2020, with adjusted EBITDA swinging to HK$732.5m (US$68.4m) from a loss of HK$886.2m (US$82.7m). 
Ho continued by providing an update on the group's ongoing development efforts on a global sale: "The group has also continued to take advantage of the opportunities arising from the rapid development of China, particularly those in the Greater Bay Area.
"We successfully tendered for a mixed use site in Zhongshan, Guangdong province, to be used as the location for a premium residential, entertainment and hospitality mixed-use complex, which will be built in partnership with Agile Group.
"With a wealth of experience in creating and developing world-class entertainment amenities, we will leverage on our own successful intellectual properties created in Macau into the development and management of the theme park, restaurants and other hospitality facilities in the complex. The majority of the project, including the theme park, is expected to be completed by 2025.
"Beyond Macau, construction of the City of Dreams Mediterranean project is progressing well with a target opening in summer 2022. The group remains committed to Japan and will continue to explore development opportunities in the country.
"We will continue to take a disciplined and pragmatic approach to the implementation of our global development plan while remaining open to promising new opportunities.
"We are encouraged by the progress of the COVID-19 vaccine rollouts in Macau, Hong Kong and China, and, along with the increasing vaccination rates across the globe, the relaxation of current travel restrictions is becoming more likely, and the recovery of the tourism industry edges closer.
"In the meantime, the group will continue to ensure the safety of its guests and employees around the world and utilise its wealth of experience to remain resilient in the face of the current challenging operating environment."