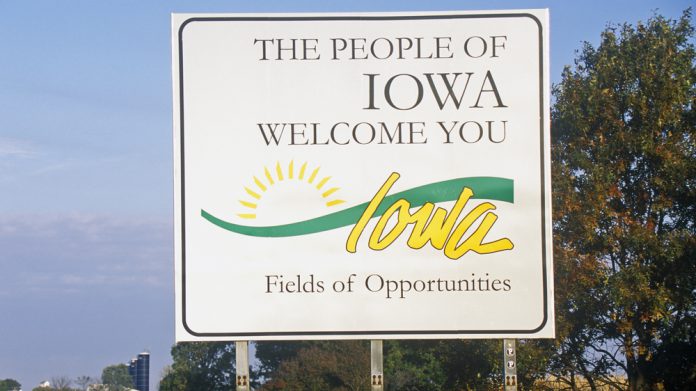 Sportsbooks across Iowa have surged to a wagering record for the second consecutive month, with five weekends of NFL action bringing an expected surge for the region.
The $280.9m taken by retail and online entities through October surpassed September's $210.4m and surged 243 per cent from $81.9m earlier, and ensured that the state has now collected more in bets over the last three months ($599.8m) than in all of 2020 ($575.2m).
Bettors averaged $9.1m per day during the month, an increase over the $2.6m in October 2020. Iowa sportsbooks have now accepted $2.3bn in wagers since launching.
Taxable revenue rose 27.8 per cent to $6.6m in October from $2.8m in October 2020 and 14.7 per cent from $5.7m in September. The combined gains yielded $514,643 in tax revenue for the state.
"With baseball's postseason, the start of the NBA, and a calendar packed with football, bettors found so much to bet on," said Eric Ramsey, an analyst for the PlayUSA.
"Iowa has also made a significant leap forward in maturation as more operators launch and Iowans begin to feel more comfortable with online sports betting. A maturing market and busy sports calendar proved to be a powerful combination."
Online betting accounted for $249.9m, or 89 per cent, of October's handle, yielding $3.5m in revenue. Retail betting represented the remaining $31m, producing $3m in net receipts.
Caesars topped the online market with $97m in wagers, but lost $1.6m in revenue. DraftKings followed with $76.4m in online wagering, producing $1.4m in net receipts.
Diamond Jo Worth led retailers with $7.2m in bets, yielding $788,755 in revenue. Ameristar Council Bluffs was just behind with $7.1m in wagers, which produced $601,591 in net receipts.
Iowa's roster of online operators has grown more robust, too. Fubo Sportsbook soft-launched on September 23, Betway launched October 1, and Circa Sports began taking bets six days later. With Barstool Sports' launch on November 2, Iowa is now home to 17 online operators, the most per capita of any legal market in the US.
"Iowa is an enticing market for operators because it has a fair regulatory framework and top operators, such as FanDuel and DraftKings, don't dominate the market as much as in other states," Ramsey added.
"That provides an opportunity for smaller operators to gain a foothold, which does not exist in larger and more established markets."